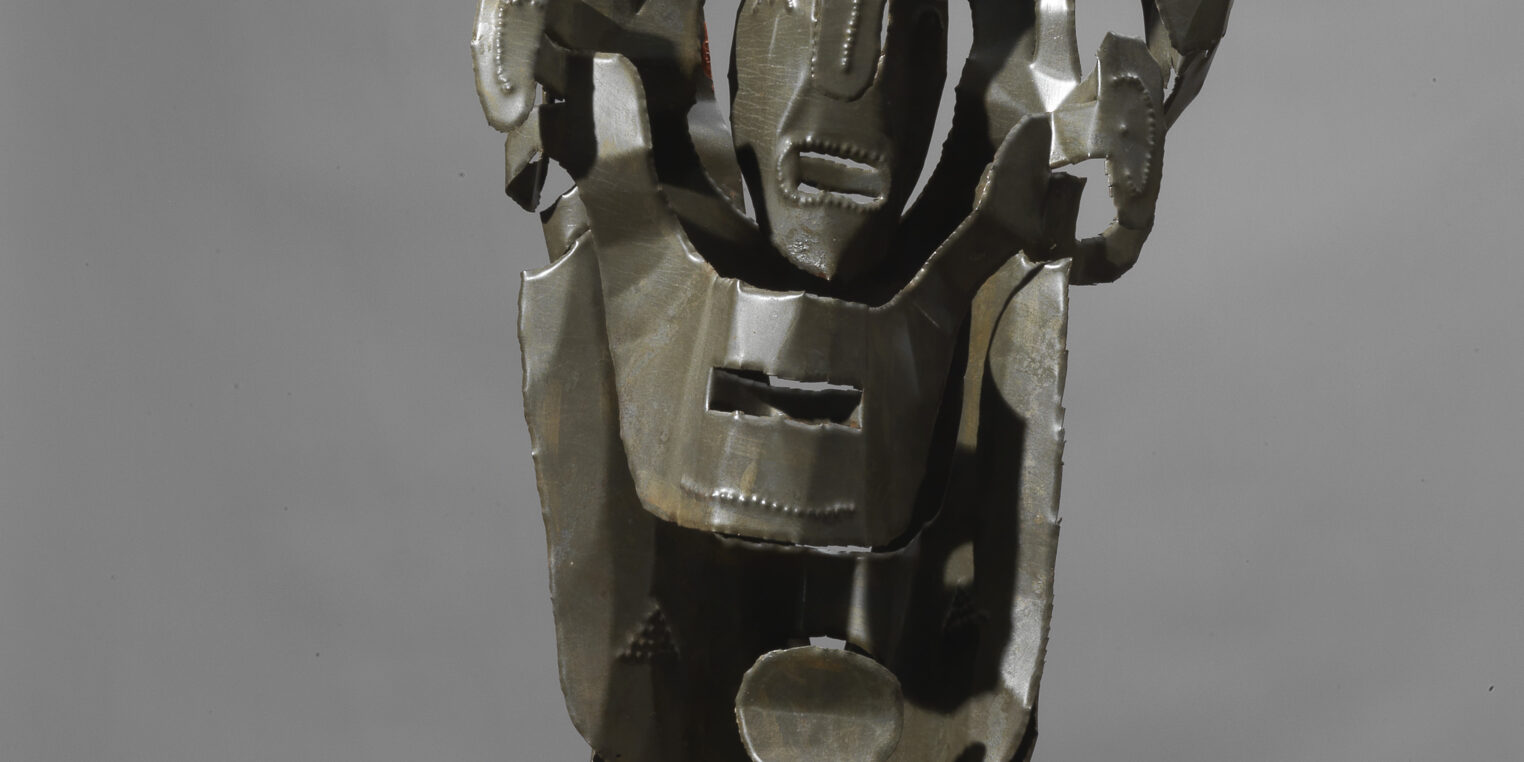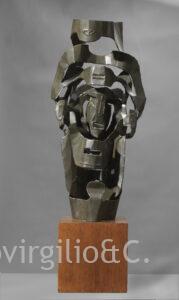 Mirko (Basaldella)
Udine 1910-Cambridge, Mass. 1969 
Portrait of Leoncillo  
1953/54 
Iron, 51,5 × 24,5 × 18 cm (with the plynth h 67 cm) 
Exhibition label on the back: "33" 
Provenance: Rome, private collection; Rome, Ovidio Jacorossi collection; Rome, private collection 
Bibliography: Barbara Tiberi, in Dal Simbolismo all'Astrazione. Il primo Novecento a Roma nella collezione Jacorossi, edited by Enrico Crispolti, Rome 2017, pp. 140-141.  
Exhibition: Rome, Musia, 1 dicembre 2017 – 1 gennaio 2018, ​Dal Simbolismo all'astrazione. Il primo Novecento a Roma nella Collezione Jacorossi​.  
Archived work by Archivio Cagli-Mirko, Rome, n. 00007, dated 26 October 2017. 
The work belongs to the highly intense series of sculptures made by Mirko between 1953 and '58 and exhibited in many salient shows, from the 1954 Venice Biennale to the collective The New Decade​ held at the Museum of Modern Art in New York. Probably among the first of the series, it portrays his friend Leoncillo Leonardi, also a sculptor, whom he met through the friendship they had in common with Corrado Cagli, in the mid-thirties in Rome.  
It is an imaginative and mystical portrait created by the cutting out, extroflection and inflection of a  sheet of iron (in other cases he used copper and brass), a "structural" portrait where the classical modelling of the material is substituted by its dilation on different spatial levels to direct the space itself into the shape.  
Already echoing through this portrait are the concepts that the artist formulated in 1955:  
"Plastic language can have a similar meaning and function in society. Like words, shapes acquire their own meaning, born of the particular feeling that they evoke, as they are organised in frameworks or systems and strengthened in their emotive possibility. Thought is no longer formed of words because the elements that determine it are lines and planes; conflicts of shape, harmonies of sour and sweet, the sense of escape, hurry or pacification. Full and empty become the dominant motive like good and evil, black and white, conscious and subconscious. Plastic language, like any thought expressed, has its own particular coordinated logic with deep human roots, transmitting ideas, evoking sentiments, recounting the lives of things and men. But artists today don't limit themselves to narrating the life of the surrounding world through visual perception, they want to know the laws and reasons that govern and determine those appearances. Even the cognizance of current scientific achievements gives a particular character to the modern poetic by lighting up unknown worlds, opening the field to new inquiries. Today's various artistic trends and their character of modernity belong to theory and specialisation. The poetic side is something else, tied to deeper and more distant motives, moved by impulses of the subconscious primordial being."  
Giuseppe Briguglio 
For further information, to buy or sell works by Mirko (Basaldella) (1910-1969) or to request free estimates and evaluations
mail info@carlovirgilio.co.uk
whatsapp +39 3382427650