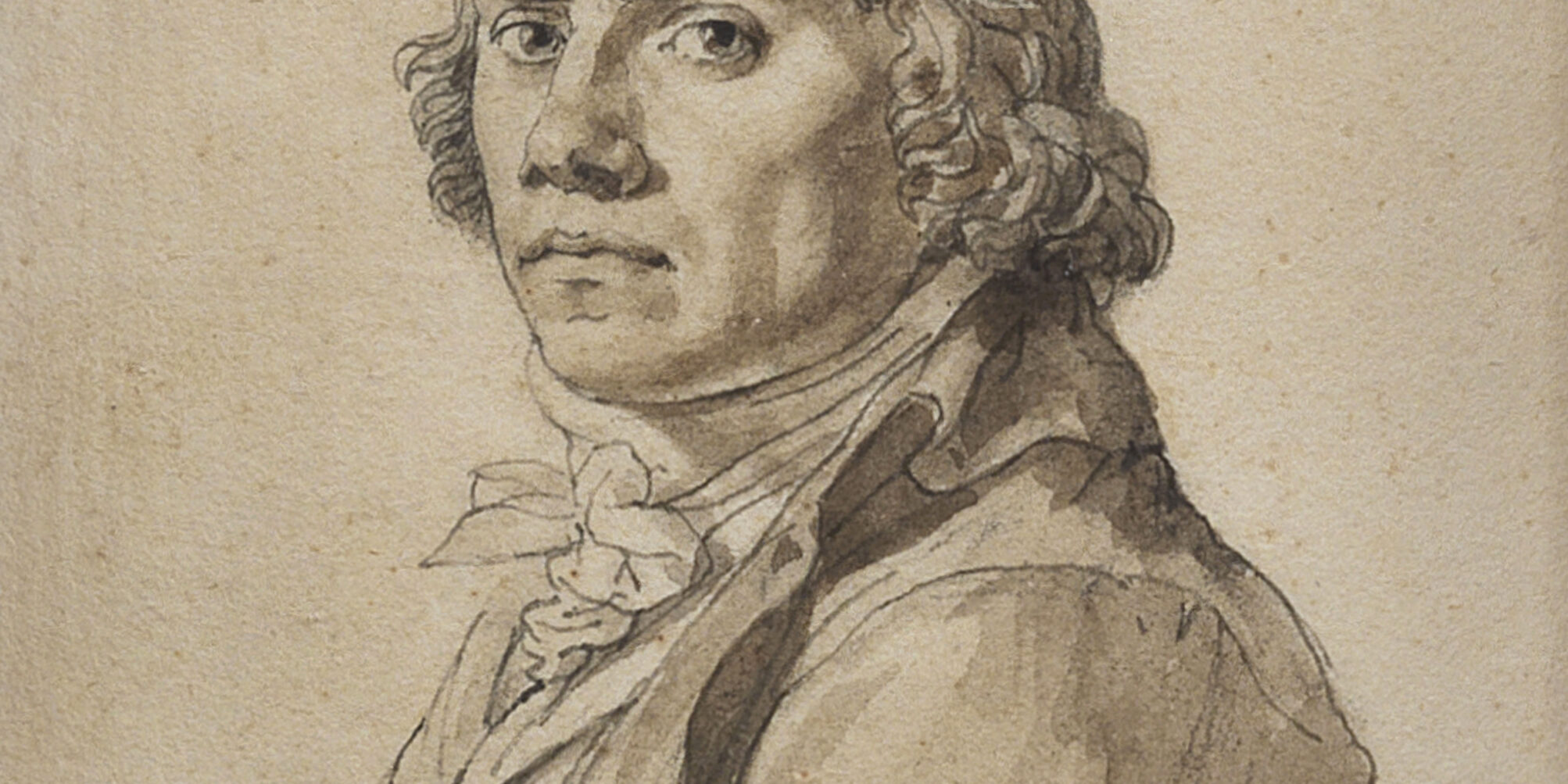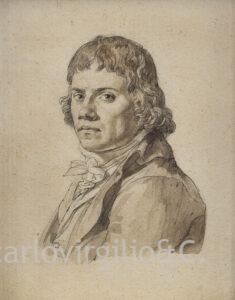 Anonymous
Portrait of Tadeus Kościuszko
1796 circa
Pen and black ink, brown watercolour ink, 90 x 70 mm
Inscribed on the back, on old support paper: "Kosciusko / patriots"; inscribed on the back of the frame support: "N. 85 (provenienza Walpole) Taddeo Kosciuszko 1746-1817 Insigne patriota Polacco – emigrò in America e fu Aiutante di campo del Generale Washington che lo decorò dell'ordine di Cincinnato. Nel 1786 ritornò in Polonia e fu proclamato capo supremo delle forze russe- Fu ferito in battaglia e condotto prigioniero nella fortezza di Pietroburgo nel 1794. Esulò in Italia e in Svizzera ove morì."
Provenance: London, Strawberry Hill, Horace Walpole's collection; Italy, private collection
This valuable small portrait in black ink and brown watercolour, has the name of the subject written on an old support paper: the famous patriot, military engineer and Polish soldier Thaddeus Kościuszko (Mieračoŭščyna 1746 – Solothurn 1817), protagonist of the American War of Independence and later the Polish insurrection against Russian and Prussian annexations. Beneath the name, the English inscription most likely indicates the series to which the portrait belonged: "patriots". A piece of card from the frame support has a note in Italian that, besides recording essential details of the subject's adventurous life, also gives the provenance of the portrait as Horace Walpole's collection.
It is probably from the large collection of drawings that the famous writer Horace Walpole bought during his Italian Grand Tour and in the succeeding decades in London, that was broken up by his heirs with the rest of the art collections in a famous auction that took place in 1842 lasting 24 days at Robin's Great Rooms in Covent Garden, where hundreds of drawings were sold bound in several volumes (cfr. Lost Treasures of Strawberry Hill: Masterpieces from Horace Walpole's Collection, exhibition catalogue edited by Silvia Davoli, London 2018).
The drawing constitutes a truly remarkable document in the iconography of this national hero, since both the image's typology and psychological intensity appear to be taken from life. Indeed it is superior, in quality of execution and expressive force, to the full length portrait also carried out in watercolour and in similar dimensions by Jean-Baptiste-François Bosio, who specialised in portraiture of illustrious men (New York, Metropolitan Museum). It does not therefore seem to be attributable to the same hand and hence, at least in this phase of research, the painter remains anonymous. As do the circumstances of its execution and a reliable date, made harder by his portrayal in civilian rather than military dress. The eventuality that it is a self-portrait should also be considered, since in his youth Kościuszko nurtured artistic ambitions. In 1769, after attending military cadet college in Warsaw, he frequented the Académie Royale de Peinture et Sculpture in Paris before going into military engineering.
As is known, following the first partition of Poland by Austria, Russia and Prussia, Kościuszko left the country and, hearing news in Paris of the insurrection of the American colonies against Great Britain, left immediately for America in 1776, just before the Declaration of Independence. Appointed engineer in the American army, he fortified Philadelphia and the defences of the insurgents both on the northern and southern fronts, contributing to numerous victories. As a result, in 1783 he was appointed brigade general and rewarded with a vast estate and a generous sum of money. When some time later, in 1798, Kościuszko took possession of the reward, he allocated his entire American fortune to buying slaves in order to free them and give them social emancipation through teaching, making his friend Thomas Jefferson guarantor as executor of his noble libertarian will.
In the meantime, having returned to Poland, he took part in the reinforcement of the institutions of the Polish-Lithuanian Commonwealth, contributing to inspire the Polish Constitution of 3 May 1791, considered the first modern European constitution, following the enlightenment principles of reason, liberty and law. After fighting against the Russian invasion of 1792, culminating in the second partition of Poland, Kościuszko organised the national insurrection proclaimed the following year, when he took command of all the Polish forces for the nation's independence in the name of universal liberty. After various twists and turns, they were defeated by the Russian and Prussian forces, he was wounded and taken prisoner in Saint Petersburg. Tsar Paul I, who succeeded Catherine II, conceded him exile in 1796 in exchange for an oath of loyalty that also allowed him to secure the freedom of 20,000 Poles. Subsequently, he lived in Breville near Paris and then Solothurn in Switzerland, where his house museum remains today (Kościuszko Museum in Solothurn), participating in the Congress of Vienna in 1815 where he was able to thank Tsar Alexander for the creation of the Kingdom of Poland.
In his vast correspondence Horace Walpole did not explicitly cite the patriot's name. And yet he showed himself to be involved in the Polish struggles for independence, admiring the exemplary Constitution of 1791 and siding with the insurgents in 1794. The civilian dress in Kościuszko's portrait indicates that it could have been made after his exile in November 1796 and before March 1797, the date of Walpole's death, when Kościuszko was in fact staying in London, before leaving for the United States the following June. Despite having fought Great Britain twenty years previously, Kościuszko was welcomed there as a great hero and visited at his residence in London's Leicester Square by politicians, the military, artists, writers and celebrities, also having his portrait made (from memory) by Benjamin West (Allen Memorial Art Museum, Oberlin College, Ohio), Richard Cosway (drawing in Lodi, Fondazione Maria Cosway; painting in Warsaw, Muzeum Wojska Polskiego w Warszawie; incision by Anthony Cardon in 1798, London, British Museum) and later in incision by William Sharp after a drawing by Thomas Stothard (London, British Museum), as a testimony of his universal fame.
The Carlo Virgilio & C. Gallery searches for works by
To buy or sell works by or to request free estimates and evaluations
mail info@carlovirgilio.co.uk
whatsapp +39 3382427650