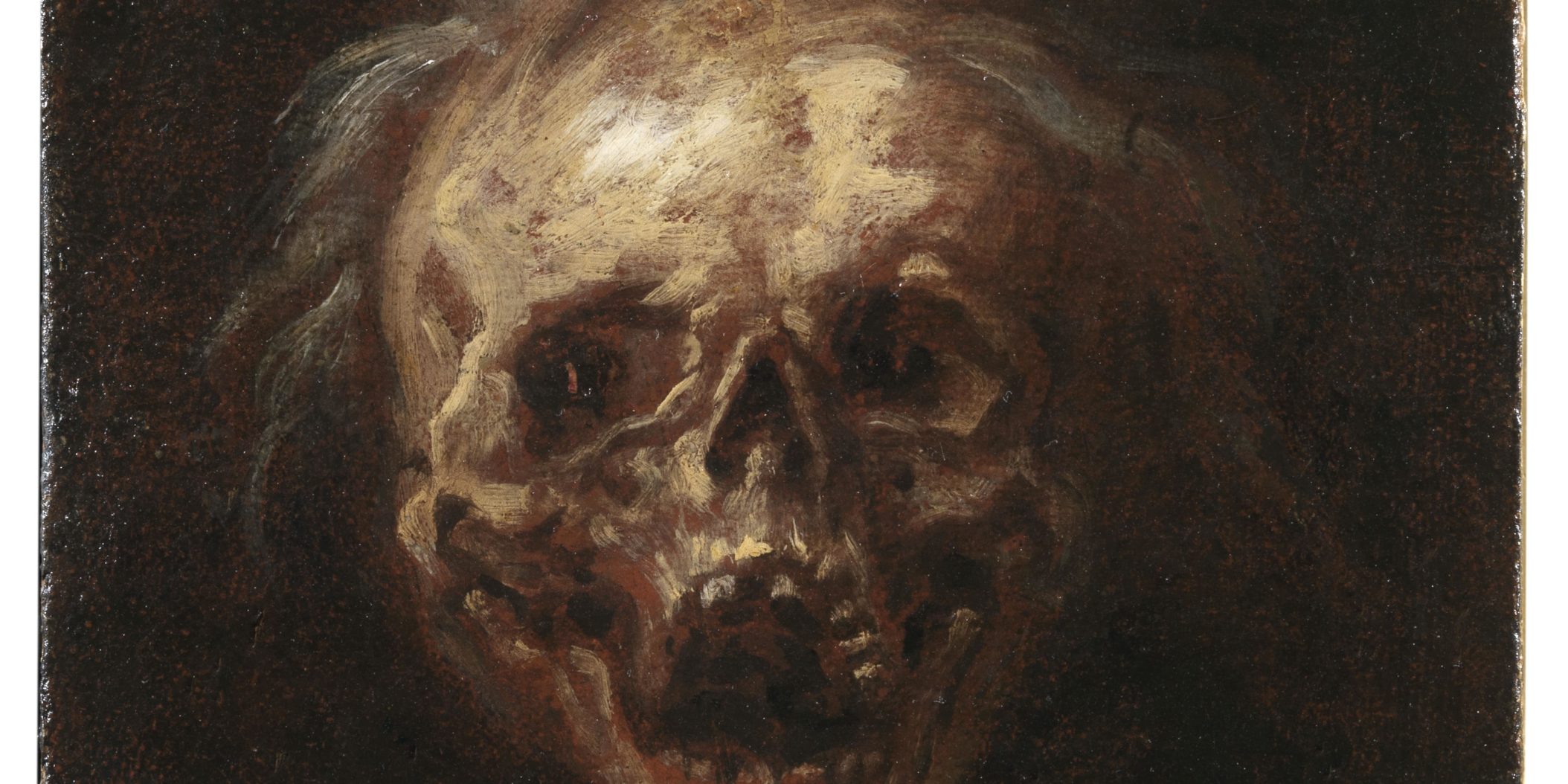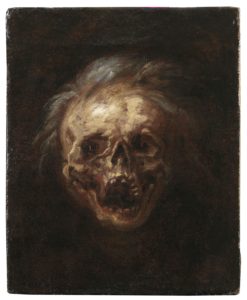 Salvator Rosa
Naples 1615-Rome 1673
Screaming Skull
1640 – 1645 ca.
Oil on canvas, 24 x 19.3 cm
This small canvas portrays a skull in the act of screaming (or snearing), with its mouth open wide and tufts of grey hair attached to the head. Rendered with rapid strokes of thick paint, the head emerging from a ruddy-brown background and lit by an oblique light, the work draws on the well known theme of vanitas, in the Nordic mould, but also evokes the sorcerous climate of the Sabbats, a pictorial genre introduced into Italy with the diffusion of Dutch prints. The wispy waves of hair seemingly moved by the wind and the glimmers of red within the eye sockets give the cranium a disquieting sense of life and movement, making it into a near typical baroque image of metamorphosis, the nightmare of a corpse returning from the dead or a live person becoming a skeleton; a witch; or a gorgon on the point of petrifying the observer; a damned soul about to be sucked back down to hell.
The cultured and ironic character of this picture, or divertissement, the allusion to magic and witchery, alongside the layered rendering, the warm browns and reds, to the grey-blue hair applied with a technique approaching the Neapolitan method of Ribera (1591-1652) and Francesco Fracanzano (1612-1656), lead its attribution to the eccentric and grotesque production of Salvator Rosa, an artist whose prolific fantasy left us various examples of subjects treated in unusual ways in the most diverse formats and presented on varied supports.
At least from Rosa's Florentine years (1640-1650) skulls are recurrent in his paintings and drawings, and the presence of a death's head as the emblem of melancholy meditation on vanitas becomes a near distinctive trait of the artist and his poetic (Ebert-Schifferer 2008). Indeed we find it in the famous Self-Portrait/Portrait of a Philosopher at the Metropolitan Museum of New York (Volpi 2014, no. 140, p. 465), in the painting Moral Philosophy at Caldaro (Volpi 2014, no. 159, p. 477), and again in numerous works from the Roman period (1650-1673) (Democritus in Meditation at the Statens Museum in Copenhagen and Fragile Humanity at the Fitzwilliam Museum in Cambridge to cite some more celebrated examples). Equally, among the sketches of the Florentine years, the image of a skull is found next to enigmatic philosophical figures and old witches (Mahoney 1977, nos. 13.3, 25.14).
The grotesque, imaginary and corrosive vein of the painter's fantasy was expressed with particular success in the Tuscan years above all relating to witchcraft, the eccentric genre of Nordic origins and on which Rosa focussed on several occasions for educated Tuscan clients (the Niccolini and Corsini families and Carlo De Rossi). It was a production, for the most part, aimed at small studies or rooms, often executed on precious supports (slate, copper and Ruin marble) and in small formats (Langdon 2010).
At the same time, absorbed by theatrical experiences with his companions of the Accademia dei Percossi, Salvator Rosa gave life to a new genre of pictorial portrait, the so-called "testacce" or heads, which is to say studies in painting and drawing of poses, expressions and characters drawn from theatrical observation and intended in most cases for intellectual friends, literary people, actors and musicians (Portrait of a Poet, priv. coll., Volpi 2014, no. 428, p. 428, Portrait of a Philosopher, whereabouts unknown, Volpi 2014, no. 84, p. 429,  Portrait, Rome, priv. coll., Volpi 2014, no. 115, p. 449, Portrait of a Poet, Strasbourg, Musée des Beaux Arts, Volpi 2014, no. 151, p. 472), works that were carried out in a frenzy, in a satirical style, with fast, thick brushwork and an economy of colour. The small canvas with the Skull is half way between the genres just described, re-proposed and re-invented by Rosa from his very early years in Florence (1640-1645).
This eccentric and disturbing cranium, that seems to scream and laugh at the same time, and to come to life as a chilling sorceress, zombie or mummy is the work of the brilliant and uninhibited imagination that was able to operate a formal and conceptual synthesis from different sources elaborated between Naples, Rome and Florence. The grotesque scream, of which The Punishment of Prometheus by Salvator, today at the Museo Nazionale di Arte Antica at Palazzo Corsini, is perhaps the highest point of arrival, was studied by the painter in Naples, from the models of his master, Falcone (Aniello Falcone, Head of a Screaming Warrior, Bremen, Kunsthalle, cfr. Volpi 2014, p. 33) and Ribera; and in Florence, at the Medici collections, home of the famous sketch by Michelangelo that portrays the Damned Soul, as well as Caravaggio's shield with the Head of Medusa (see Volpi 2014, p. 33, 195).
Rosa returns to the theme of the speaking skull (or better, singing skull) in the Vanitas painted on the casing of a harpsichord owned by the Maffei family, to whom the artist was tied by a deep friendship and of whom he was often a guest at their estate, Monterufoli (today at Haddo House, cfr. Volpi 2014, no. 227, p. 529). The work is most likely datable to Rosa's last sojourn in Tuscany, in 1649. Nonetheless the Skull in question shows a style that is still youthful, connected to his Neapolitan experiences, as yet not strongly influenced by Tuscan drawing, the same pictorial ductus and the same palette as works from the first half of the fifth decade. Despite the objective difficulty of establishing the exact chronological date for this grotesque piece it is possible to demonstrate close stylistic affinities with works from the sixteen forties such as Witch from the Musei Capitolini and above all, given the similar palette and scream, with the Witch, previously Altomani (Volpi 2014, n. 158, fig. p. 167), for which this small canvas seems almost an initial thought, a preparatory note or first idea that took on the form of an impressive monumentality.
In the sixteen fifties Rosa continued to create images of witches and unsettling monstrosity, to a great extent inspired by the models elaborated in the Florentine years; such as the case of Witchcraft in the Corsini collection in Florence from 1655 (Volpi 2014, no. 137, p. 166) where the screaming witch carrying a light reappears to the left in the background. They are however more elaborate and complex – as the preparatory drawings show – and portrayed in a mature style, a long way from the spontaneous and enigmatic immediacy of our small Skull.
The playful character, abbreviated style and small dimensions seem to indicate that the canvas might have been intended for a Tuscan friend of the artist, perhaps the Maffei family for whom Salvator painted the harpsichord casing as well as numerous small paintings briefly described as portraying heads and masquerades (Volpi 2014, pp. 636-637) an inventory entry that may possibly include this ironic and terrorising Skull of a witch.
Caterina Volpi
Specific bibliography:
Unpublished
Related  bibliography:
Mahoney 1977
M. Mahoney, The Drawings of Salvator Rosa, II vols., New York – Londra, 1977.
Ebert- Schifferer 2008
S. Ebert – Schifferer, Il teatro filosofico della vanità: le iconografie di Salvator Rosa, in Salvator Rosa tra mito e magia, catalogo della mostra (Napoli aprile-giugno 2008), Napoli 2008, pp. 66-82.
Paliaga 2009
F. Paliaga, Pittori, incisori e architetti pisani nel secolo di Galileo, Pisa 2009.
Langdon 2010
H. Langdon, Witches, in H. Langdon con X. Salomon e C. Volpi, Salvator Rosa, catalogo della mostra (Londra e Fort Worth, settembre 2010-marzo 2011), Londra 2010, n. 23, p. 178.
Maciocie De Nile 2010
S. Macioce, T. De Nile, Influssi nordici nelle Stregonerie di Salvator Rosa, in S. Ebert-Schifferer, H. Langdon, C. Volpi, a cura di, Salvator Rosa e il suo tempo, 1615-1673, atti del convegno internazionale (Roma, gennaio 2009), Roma 2010, pp. 139-158.
Volpi 2014
C. Volpi, Salvator Rosa (1615-1673) "pittore famoso", Roma 2014.
The Carlo Virgilio & C. Gallery searches for works by Rosa Salvator (1615-1673)
To buy or sell works by Rosa Salvator (1615-1673) or to request free estimates and evaluations
mail info@carlovirgilio.co.uk
whatsapp +39 3382427650