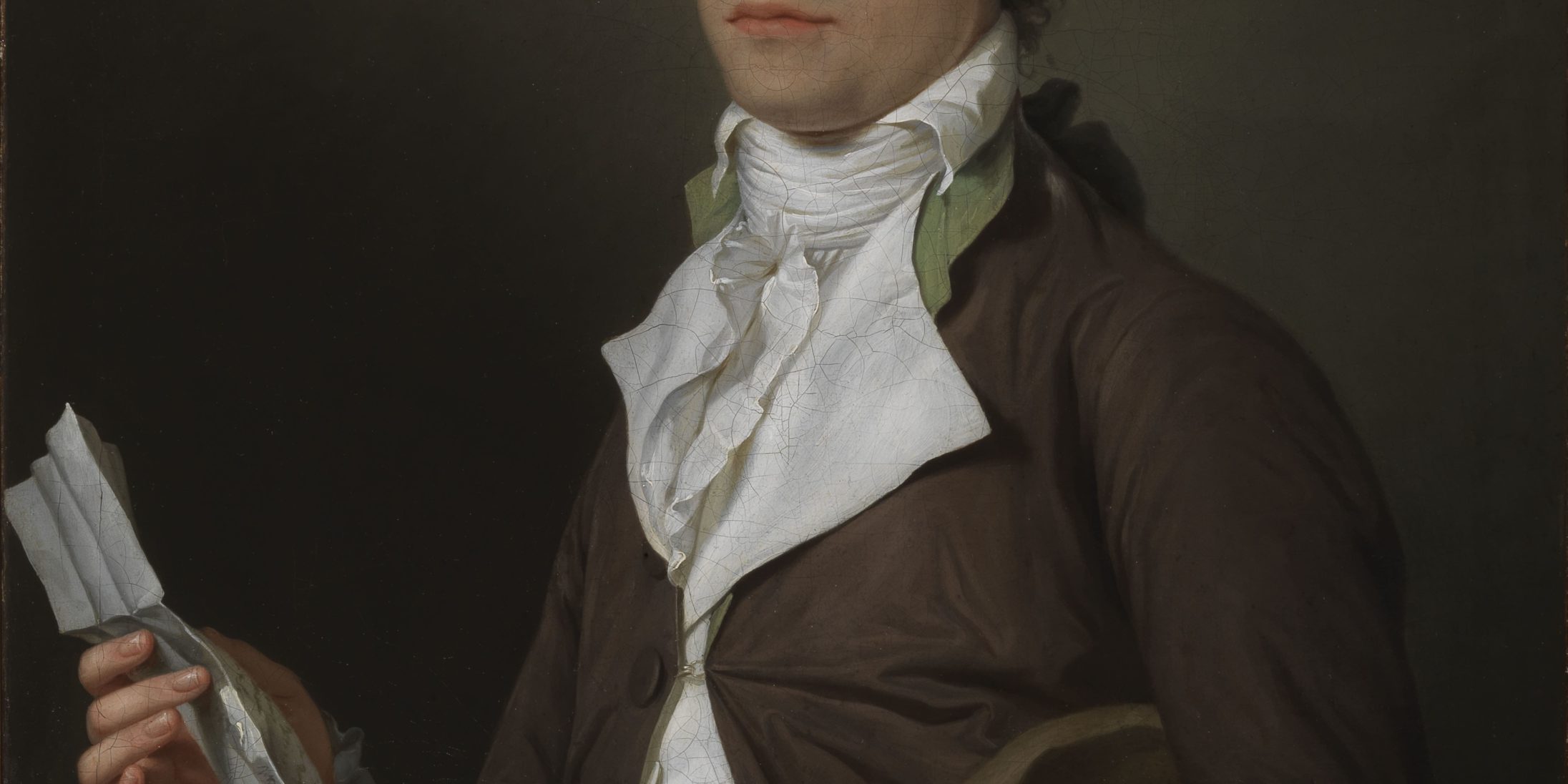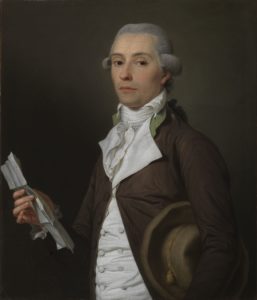 Giovanni Domenico Cherubini (Rome 1754-1815)
Portrait of the Nobleman Daniele Ippolito degli Oddi
1793
Oil on canvas,
Provenance: Padua, Daniele Ippolito degli Oddi; Padua, Arrigoni degli Oddi; Florence, Ruffo di Calabria
This painting is unsigned and without inscriptions, and over time the identification of both the sitter and artist had been lost. It is possible, nevertheless, to identify the gentleman portrayed by iconographic comparison and by tracing the provenance from the most recent to the possibly original owner – as well as make a convincing attribution to the artist based on archival and published sources. The rediscovered identification of both the sitter and artist offers insights into the artistic milieu of Antonio Canova and the reappraisal of a portraitist of not inconsiderable talent in late eighteenth-century Rome.
The portrait comes from the Villa del Monte, between Certaldo and San Gimignano, property of the Ruffo di Calabria family. In Florence in 1930 Prince Ruffo di Calabria came into the possession of artworks from the Paduan branch of the patrician degli Oddi family. Among the newly acquired works were a series of plaster casts made from marble sculptures by Antonio Canova (1757-1822) which Canova had donated to the Venetian ambassador in Rome, Girolamo Zulian. Canova's gift to Zulian was in thanks for the latter's support during the sculptor's early years in Rome, when welcomed by the circle of artists and connoisseurs of fine arts who met by him in Palazzo Venezia and gratified by the gift of a marble from which to derive a demonstrative work conceived to rival the antique, the Theseus and the Minotaur (1782; Victoria and Albert Museum, London), that was to inaugurate a new era in sculpture.
Upon returning to Italy in 1788, Zulian created a Canova gallery in his Paduan residence, employing the Venetian architect Giannantonio Selva (1751-1819) in its design. The new gallery was decorated with Canova's plaster casts and intended to receive the second marble version of Psyche (1793-94; Kunsthalle, Bremen) – to be recompensed with the striking of a gold medal in honour of the artist. Zulian died in 1795 and his Canova casts descended to cousins, five brothers of the Priuli family, while the marble returned to his author, who ceded it to Giuseppe Mangili, a rich Venetian collector. A number of reliefs by Canova belonging to the Priuli are now in the Museo Correr in Venice; Zulian's other Canova casts which had passed to the Priuli were acquired by a cultured member of the Paduan aristocracy, Daniele Ippolito degli Oddi (1771-1854). The Paduan had earlier sojourned in Rome 1792-93 with the intent of a Grand Tourist to gain instruction in the arts of design and architecture and where he met Canova (Pavanello 1993; Honour 2007).
In Rome degli Oddi commissioned a portrait bust from Antonio D'Este (1755-1837), soon to be appointed director of Canova's studio (Sforza 2001, n. 4, p. 275). D'Este's bust of degli Oddi is known from an old photograph (Biblioteca dell'Orto Botanico, Padua) and clearly represents the same subject as our portrait. The similarity of age as well as iconography of degli Oddi in the two works suggests that they were both executed in Rome in 1793.
Degli Oddi's life is recorded in an obituary by Andrea Cittadella Vigodarzere (Sorgato 1856, p. 26): degli Oddi returned to his native Padua where he practised as an architect, working as a Deputy to public building works, and constructing for himself the Villa Arrigoni degli Oddi a Monselice. Degli Oddi continued to collect art and frequent artistic circles, corresponding with Canova whom he hosted during the latter's journey to Venice in 1795 to install the Monument to Admiral Angelo Emo (1793) in the Arsenal. Degli Oddi also regularly corresponded with D'Este in Rome as well as Canova's housekeeper and dilettante painter, Luigia Giuli (c.1746-1811), by whom Degli Oddi owned a portrait of Canova (auctioned at Pandolfini in Florence on 27 October 2008). Papers published by degli Oddi's descendent, Ettore Arrigoni degli Oddi (Arrigoni degli Oddi 1921-22a; 1921-22b; 1922-23), record that degli Oddi collected such objects as cameos by Giovanni Pikler (1734-91), micromosaics, and prints by Giovanni Volpato (1740-1803) and Raphael Morghen (1758-1833). The papers contain much of interest in relation to Canova's artistic circles such as recounts by the British architect Charles Heathcote Tatham (1772-1842) whom degli Oddi met through D'Este. D'Este reminded degli Oddi of the latter's painted portrait executed in Rome, writing to him on 19 October 1794, 'Forgive me if I take the liberty of commending to you someone notable for his probity and merit in art: the painter Corradini, who had the honour of painting your portrait, is thinking of coming to visit the maestri of our Scuola (may they never die)' (Arrigoni degli Oddi 1822-23, pp. 429-30).
An artist called Corradini is not documented in Rome at that time: it is likely that the name of the artist was improperly transcribed for publication. A similar name is that of Giovanni Domenico Cherubini whose style accords with that of our portrait which demonstrates the influence – albeit in a more modern and limpid key – of the long-lived Austria painter in Rome, Anton von Maron (1733-1808). Indeed, Cherubini was von Maron's pupil, adopted son and then heir, living for forty years as the artist's 'youth' in their lodgings behind S. Maria in Via in Rome (Michel 1996, pp. 402-404). Cherubini remained in his master's shadow and is known by few paintings, although of superb quality, such as the portrait of the painter of miniatures, Sofia Clerk Giordano (1778–1829) (1801; Accademia Nazionale di San Luca, Rome; fig. 3), a portrait described as 'felicitously influenced by the more delicate von Maron of the late years' (Susinno 1974, p. 270). Another of Cherubini's few known works is a portrait of Marquis Luigi Amat di Sorso (Villa d'Orri, Sarroch; fig. 2) which shows the same elevated pictorial qualities as our Daniele Ippolito degli Oddi. Cherubini adopted von Maron's name upon his master's death, signing as Antonio two portraits exhibited at the celebrated survey of Italian portraiture, Mostra del ritratto italiano, held in Florence in 1911 (Anna Capalti born Serafini and Rosalia Tarnowska born countess Czacka).
Cherubini's portrait depicts a clear light falling over the sitter's noble physiognomy and elegant morning suit, achieved in a loose pictorial technique giving a natural effect without the labouring of minute details. The solidity of degli Oddi's pose, combined with the depth of his gaze, the naturalness of his countenance and nobility, convey an introspection underlined in the characterisation of the sitter by Cittadella Vigodarzere, 'His nature and manners were all his own, or, as one says, original: he possessed an imperturbable equanimity, was always of good spirit without ever breaking into laughter, and was of resolute opinion, conveyed with singular impassibileness; he could appear cold when struggling for the others. He did not vaunt his wealth but neither did he affect unawareness of his status.'
Stefano Grandesso
Arrigoni degli Oddi 1921-22a
E. Arrigoni degli Oddi, 'Memorie Canoviane. Lettere di Luigia Giuli a Daniele Ippolito degli Oddi', in Atti del Reale Istituto Veneto di Scienze, Lettere ed Arti, 1921-22, vol. 81, pp. 619-34.
Arrigoni degli Oddi 1921-22b
E. Arrigoni degli Oddi, 'Sul carteggio fra Antonio Canova e Daniele degli Oddi' in ibid., pp. 523-40.
Arrigoni degli Oddi 1922-23
E. Arrigoni degli Oddi, 'Memorie Canoviane. Lettere di Antonio d'Este a Daniele Ippolito Degli Oddi', in ibid., 1922-23, vol. 82, p. 423-68.
Honour 2007
H. Honour, I gessi di Canova per l'ambasciatore Zulian: una testimonianza di amicizia e di mecenatismo illuminato, Milan, 2007.
Michel 1996
O. Michel, Vivre et peindre à Rome au XVIIIe siècle, Rome, 1996.
The Carlo Virgilio & C. Gallery searches for works by Cherubini Giovanni Domenico (1754-1815)
To buy or sell works by Cherubini Giovanni Domenico (1754-1815) or to request free estimates and evaluations
mail info@carlovirgilio.co.uk
whatsapp +39 3382427650