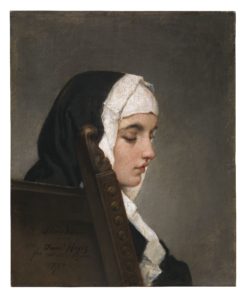 Francesco Hayez
Venice 1791 – Milan 1882
Young nun. Life Study, 1879
Oil on canvas, 40.5 x 50.7 cm
Inscribed, signed and dated on the back of the left hand chair:
"Studio dal vero //Franc.° Hayez / fece nell' età di 89 anni / 1879"
"Life Study //Franc.° Hayez / aged 89 years / 1879"
Provenance: Milan, Giuseppina Negroni Prati Morosini; Milan, Negroni Prati Morosini collection; Milan, Orsi Gallery; Milan, private collection;
Bibliography: F. Hayez, pp. 282-283
There are two known versions of this painting – an extraordinary testimony of the final phase of the long artistic career of Francesco Hayez – one signed lower right "Life study / Hayez" reproduced and entered in 1890 by Giulio Carotti in the list of works in the appendix of Hayez' Memoirs as belonging to Count Aldo Annoni and then reconsidered and newly reproduced by Nicodemi who indicated that it was in the collection of the heirs to Senator Alessandro Casati (Hayez 1890, p. 282, fig. p. 230; Nicodemi 1962, p. 265, tav. 221; Mazzocca 1994, p. 373 no. 424); the other, also noted by Carotti, which appeared at the Milanese retrospective dedicated to the artist a year from his passing with the indication: "Head; life study in oils. Never exhibited. Considered one of his last life studies. Prop. Donna Giuseppina Negroni Prati Morosini" (F. Hayez, Le mie memorie cit., pp. 282-283). It is this last that should be identified as our painting.
From a comparison of the two works there are minimal differences, although our version appears decidedly more complete in pictorial definition so it might be considered a first draft, later replicated in a more rapid and brief manner. The elegant inscription, in which the artist shows pride for a vitality that age had not dimmed, confers great importance on studying from life, which was always at the centre of his poetic. A life study that is nonetheless elevated to an expression of feeling, as occurs in this case where we intuit an intense capacity for psychological introspection in the consideration and rendering of the thoughts behind the delicate profile of the beautiful novice. We discern a slight glimmer of turmoil that inevitably brings to mind, if we weren't aware that the sitter is a model, of the famous nun of Monza in Alessandro Manzoni's Promessi Sposi.
Another interesting aspect of the work, which is an exceptional testimony to the eternal youth of Hayez, is its provenance. In fact it belonged to a person who was very close to the artist in his final years; his faithful friend Countess Giuseppina Negroni Prati Morosini, whose portrait he made in 1853 (Milan, Pinacoteca Ambrosiana), who was a leading member of Milanese cultural circles thanks to the ties she had with the painter, the poet Andrea Maffei and Giuseppe Verdi, with whom she kept an extensive correspondence.
Her long relationship with Hayez was definitively established when, in 1869, the artist dictated his memoirs to her, later published in 1890 by Carotti in an edited and corrected version, with respect to the hand-written original conserved at the Brera Academy, perhaps by Morosini himself. There are numerous paintings executed for her by the artist, such as the large historical painting on a Venetian theme, whereabouts unknown, Vendetta di una rivale (1853) (Revenge of a Rival), the portrait of her husband Alessandro, and the magnificent portrayals of her two young daughters Luigia and Antonietta. Finally there was no lack of tributes, such as the sketch for the large altarpiece depicting The Martyrdom of Saint Bartholomew, the pen drawing of Joseph Explaining the Dream, a watercolour with a version of the Kiss and lastly, probably, this very oil.
Prof. Fernando Mazzocca
Bibliography
HAYEZ 1890
F. Hayez, Le mie memorie, with appendix by G. Carotti and discourse by E. Visconti Venosta, Milano 1890;
Nicodemi 1862
G. Nicodemi, Francesco Hayez, Milano 1962;
Mazzocca 1994
F. Mazzocca, Francesco Hayez. Catalogo ragionato, Milano 1994, p. 373 no. 424
The Carlo Virgilio & C. Gallery searches for works by Hayez Francesco (1791-1882)
To buy or sell works by Hayez Francesco (1791-1882) or to request free estimates and evaluations
mail info@carlovirgilio.co.uk
whatsapp +39 3382427650