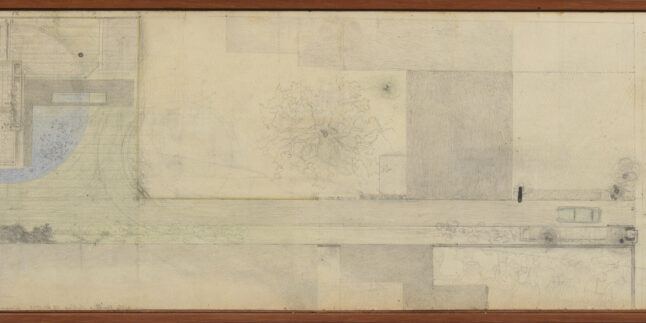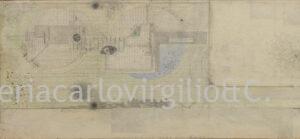 Carlo Scarpa
(Venice 1906 – Sendai 1978)
Projectual study of the floor plan of Casa Veritti in Udine
1955
Pencil and colored pastels on paper, 706 x 161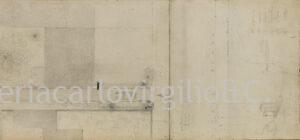 mm
within original wood and glass assembly by Carlo Scarpa
Signed and dated, with the inscription running from right to left: "Villa Veritti in Udine 17.XI.1955 disegnato da Carlo Scarpa Veneziano"
Provenance: Rome, private collection
The drawing shows the first design ideas for the Veritti house in Udine, commissioned to Scarpa in 1955 for a lot on the outskirts of Udine, squeezed between neighboring plot of lands already built. At the end of an access path, the architect had initially planned to join with a glazed passage two wings of the building, studied on the variation of the circular shape and dedicated respectively to the living and the sleeping area. This arrangement included only one floor above ground.
After having discarded, at the client's wish, a variant, which provided for the connection between the main body and a room intended as a winter garden, Scarpa studied a more traditional solution, merging the project into a two-storey complex.
Casa Veritti (1955-1961) is one of the first residential buildings built by Scarpa. Revealing the modernist fascination for Der Stijl and the influence of Frank Lloyd Wright's models, the geometric shapes intersect, creating unprecedented projections of the built on the surrounding space. Indeed, the entire design obeys the intent of connecting interiors and exteriors in the dynamic spatial vision towards a horizon deliberately concluded by the perimetral walls, adorned with studied tree essences. The interiors are built as open, continuous and changing spaces, through pillars, slab openings and sliding panels, where the fixed furnishings, like all the refined architectural details in concrete, wood and Venetian stucco, belong to Scarpa's design and supervision in the craftsmanship realization.
The plan presented here testifies to the genesis of the composition in the circle pointed at the center of the sheet, between the two contiguous plots of land, a motif that reverberates on the two bodies of the building, joined by a glazed gallery, where quadrangular shapes cut by diagonals are inserted.
The plan shows the chromatic detail of the different floorings and of the water basin, of Japanese inspiration. At the same time, it constitutes the project of the garden, with the precise location of the plants and, in the legend, the description of the planned species: cypress, laurel, persimmon, privet, olive, walnut. Alongside, the elevation sketch shows the detail of the door overlooking Via Duodo together with the modernist detail, used as an effective unit of measurement, of the car.
Related bibliography: Casa Veritti a Udine, di Carlo Scarpa, in "Casabella Continuità", 254, agosto, 1961, pp. 2-11; F. Dal Co; G. Mazzariol, Carlo Scarpa 1906-1978 Opera completa, Milan 1996, pp. 38, 55, 117-118, cat. 112 (entry by Luciano Pollifrone), 270; Y. Futagawa, Carlo Scarpa: Casa Veritti, Udine, Italy, 1955-61, Casa Ottolenghi, Bardolino, Italy, 1974-79, A.D.A, 2010.
For further information, to buy or sell works by Scarpa Carlo (1906 - 1978) or to request free estimates and evaluations
mail info@carlovirgilio.co.uk
whatsapp +39 3382427650