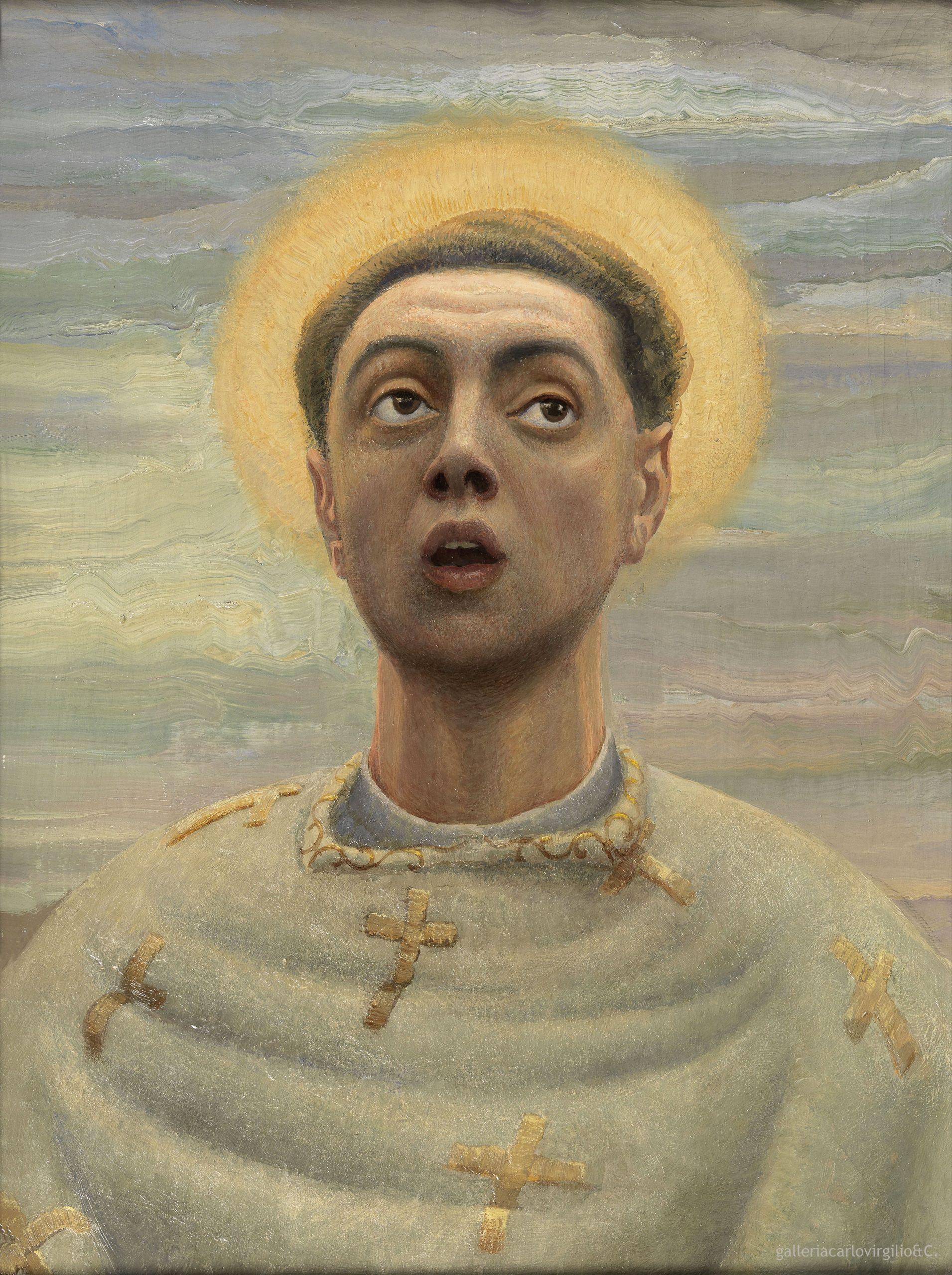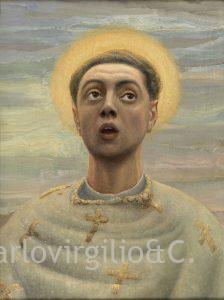 Bortolo Sacchi
(Venice 1892- Bassano 1978)
Self-Portrait as a Saint
1920 c.
Tempera on cardboard, 69 x 51 cm
On the back, in a scroll glued to the frame: "Nihil nisi divinum"
Bibliography: Dal Canton, Stringa 2000, p. 87, no.17
Exhibition: Bortolo Sacchi 1892-1978, Bassano, Palazzo Bonaguro, September – November 2000 Provenance: Veneto, private collection
Self-Portrait as a Saint is the original fruit of rigorous research carried out by the Venetian artist Bortolo Sacchi. Characterized by a high and refined pictorial quality, the painting shows the already very personal style of the twenty-eight year-old artist, part of the new European current of magical Realism. His interest in creating an experimental work is clear; he appears to be looking inward, in search of his 'other self' (a tòpos of twentieth century culture) and hinting very slightly at irony.
His growth as a painter was influenced by his German studies at the Academy of Fine Arts in Munich (1909-1913), where he learnt to look at "vero." Stimulated by the international milieu of Munich, where Giorgio de Chirico also trained, once he returned to Venice, Sacchi hooked into the more advanced elements of young Italian art, represented by the Venetian Capesarini (Ca' Pesaro group), led by figures such as Felice Casorati, and by the Roman Secessionists; and took part in their exhibitions. In this phase his painting was influenced by Gauguin's synthesism, an interest mediated by his friend Gino Rossi, who spent time working in Paris, and by the presence of some engravings by the French master at the III Roman Secession.  He is also affected by the enigmatic and decadent style, with strong traits of surrealism, of the Venetian painter and engraver Alberto Martini, linked to German circles. However, his research must also have included aspects of certain paintings by Casorati, characterised by a cracked reality of deep ambiguity and psychological aims that are dense with anxiety.
On this artistic path Sacchi already demonstrates a personal and meditated leaning towards the "return to order," the new avant-garde still widespread in Europe before the end of the war. Guided by a "tough discipline," he threw himself headlong into the study of antique pictorial solutions, tied to a magical pictorial operation. After the war he began to show his work again at important exhibitions in Italy and in 1920 he had his debut at the Venice Biennale, where he would be a constant participant up to the forties. At the same time, besides his Self-Portrait as a Saint, he executed a Self-Portrait at Night, in which he portrays himself on a bridge over a Venetian canal wrapped in darkness, his pale face turned to the left, while his enigmatic and detached expression is directed at the onlooker; a self-portrait brought to the fore, imposing face to face intimacy with himself, his eyes veiled by the dim light. For many painters of this period, particularly artists from Italy and Germany, the self-portrait is a mirror through which to catch not so much the external face as the internal being, with that element of magic playing on the theme of being and seeming. "Here in Sacchi, we see taking form an ironic transposition of the artistic self carried to the extreme consequences of narcissism – observes Nico Stringa (Dal Canton, Stringa 2000, p.88) – Bulging in a sort of vortex that raises it upwards, the head has the halo of a 'saint' screwed onto it with the neck exaggeratedly lengthened, in an ascesis that is also a physical lifting and literal 'mockery' of the genre of 'self-portrait'." Sacchi's artistic activity required a precise knowledge of the history of art and in particular of the Venetian masters, from Mantegna to Bellini, Carpaccio and Tintoretto, in which enigmatic scenes and miraculous visions are brought to a level of logic and harmony. Besides, on the reverse of the self-portrait, an inscription in Latin says: "Nihil nisi divinum» ("Nothing but divine"), whose meaning could be connected to the spiritual value of artistic activity. Equally, the inscription might have been extrapolated from the maxim «nihil nisi divinum stabile est. Coetera fumus» ("Nothing is stable if not divine. The rest is smoke"), which can be seen on a scroll at the feet of a dramatic Saint Sebastian (1506) painted by Andrea Mantegna, at the time in the Venetian collection of Giorgio Franchetti but also known from photographs.
For further information, to buy or sell works by Sacchi Bortolo (1892-1978) or to request free estimates and evaluations
mail info@carlovirgilio.co.uk
whatsapp +39 3382427650