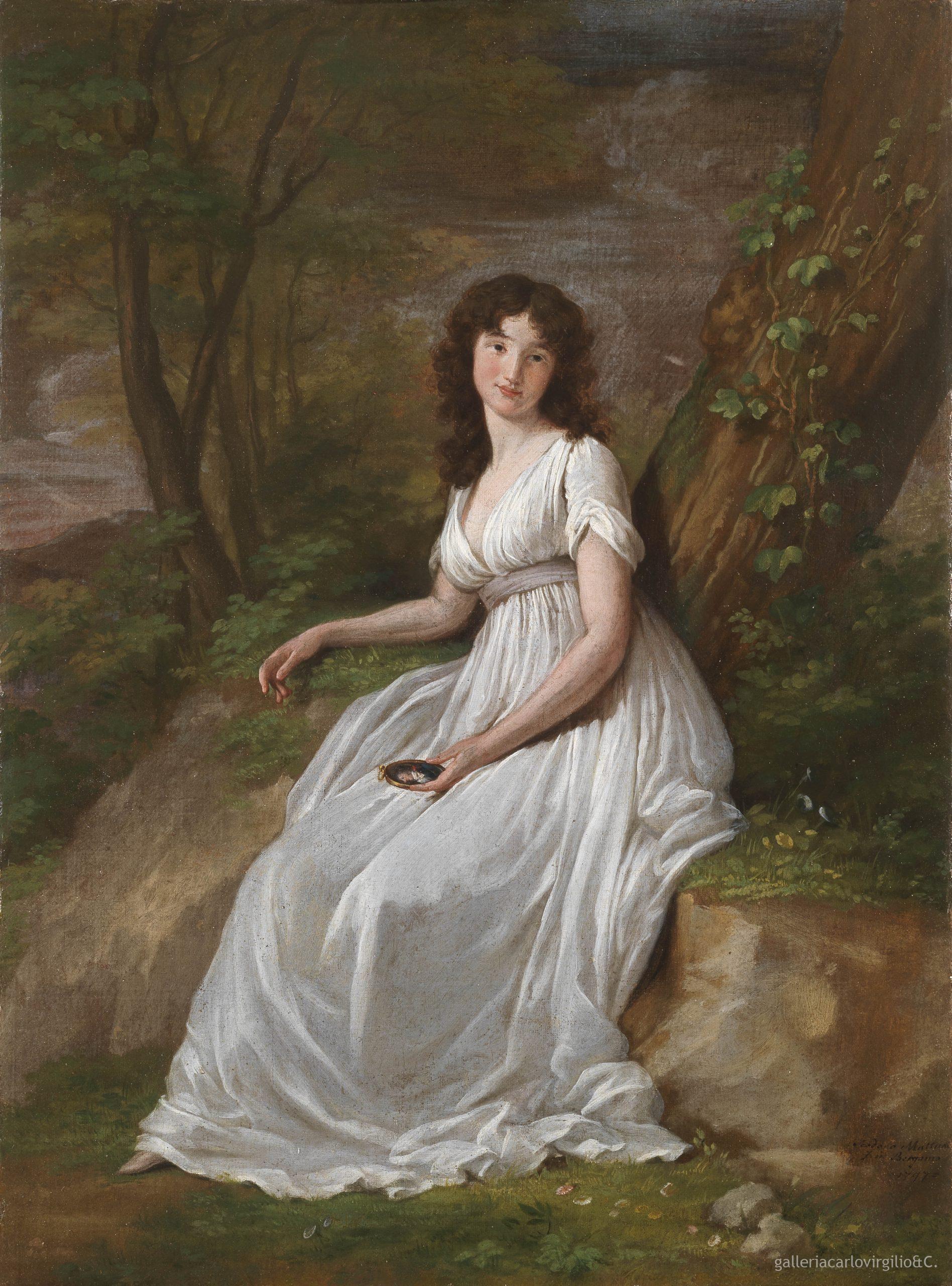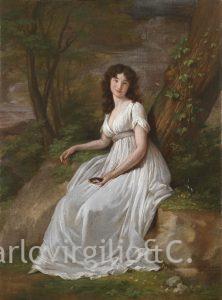 Teodoro Matteini
(Pistoia, 1754 – Venice, 1831)
Portrait of a Young Woman with a Medallion
1797
Oil on canvas, 67 x 49.5 cm
Signed and dated bottom right: "Teodoro Matteini / f.[fece] in Berg.[amo] / 1797"
Provenance: Bergamo, Davide Cugini collection; Bologna, Eugenio Busmanti collection
In the shade of a woody scene, that opens out in the distance on a mountainous horizon lit by the rosy light of evening, a young girl in a white dress with a high waist sits on a grassy knoll, in a melancholic attitude, with her head tenderly inclined and a sweet, thoughtful expression on her face. Leaning against the trunk wrapped around in strands of ivy, symbol of devotion and eternal passion, in her left hand she is holding a medallion with the profile in miniature of her distant loved one, identified with certainty, thanks to particulars of the uniform – the blue cloth and high red collar – as belonging to a French officer in Napoleon's army at the time of his first dazzling campaign in Italy.
The painting's inscription, clearly hand-written by the artist on the rock at the bottom right, relates that the work was executed by Teodoro Matteini from Pistoia, in the fateful year of 1797, in Bergamo, where on 13 March the local revolutionaries, with the backing of the French, brought to an end the centuries-long dominion by the Republic of Venice on their city and territory.
A charming canvas of extremely high pictorial quality and sophisticated tones, subtly playing with the range of browns, greens and greys, in perfect balance with the maiden's skin colour and the whiteness of her full dress, as she sits in the foreground, central to the composition; it is one of the best examples of portraiture by Matteini. Alongside more traditional half bust portraits, depicted life size with a cohesive background, skilfully rendering naturalism and the psychology of the sitter, he had great success with these attractive full figure portraits in small format, generally set in the open, portrayed with a strong sentimental tone and in an anglicizing taste, comparable with coeval productions in portraiture by Giovanni Battista Dell'Era, Jacques-Henri Sablet and Louis Gauffier, which he began to paint towards the end of his twenty-five-year stay in the Eternal City, begun in 1770.
Having left Rome in 1794 to go to Florence and then on to Milan (1795-1796) and Bergamo, where he stayed until June 1796 and January-February of 1798, by March of that year Matteini was settled in Venice, where he would remain – after a few months in Padua, between the summer of 1799 and January 1800 – taking on, in 1807, the prestigious chair of painting at the re-founded Academy of Fine Arts, where he would be the appreciated maestro of an entire generation of painters; just to mention a few, Odorico Politi, Giovanni Demin and Francesco Hayez – who remembers him in his memoirs with affection and admiration (Mazzocca 1995, p. 40), – Ludovico Lipparini, Michelangelo Grigoletti, Placido Fabris and Cosroe Dusi (see Pavanello 2002, pp. 13-94, in particular pp. 13-21).
From among the fifteen portraits by Teodoro Matteini definitely carried out during the course of his stay at Bergamo that have come to light until the present today (Gori Bucci, 2006, pp. 146-147, 366, 378-379, 383, 389, 391. For Matteini portraiture see also: Falconi 2010, pp. 215, 285-286, cat. 118; Mazzocca, Falconi 2010, pp. 157-163, ill. XVI, XVII, 210-216) only two other likenesses answer to the winsome typology of the updated international style of our painting: the Portrait of a Young Lady with a Sheet of Music, signed and dated "Teodoro Matteini fece / in Bergamo 1797" (Venice, Gallerie dell'Accademia, in storage at Ca' Pesaro since 1938; fig. 2; oil on canvas, 63 x 50 cm, Gori Bucci 2006, pp. 197, 383, cat. 32), and the Portrait of a Young Republican, signed and dated unclearly (1796 or 1797?), "[Teodoro] Matteini / F. in Bergamo / 179[?]" (Rome, Museo Napoleonico; fig. 3, oil on canvas, 66.5 x 51.5 cm (Falconi, 2002, pp. 177-178, cat. 77, not reproduced; Gori Bucci 2006, pp. 184-185, 378, cat. 21), more correctly identifiable as a Portrait of a Young Officer in the French Army, thanks to the recognition of the jacket's blue colour (thanks to Marco Pupillo of the Museo Napoleonico of Rome), seemingly black due to a change in the pictorial pigment, in which we are tempted to see the pendant of the work under examination. But it must be remembered that the Portrait of a Young Lady with a Letter (Venice, Gallerie dell'Accademia, in storage at Ca' Pesaro since 1938; fig. 4, Oil on canvas, 59 x 47 cm (Gori Bucci 2006, pp. 197-198, 383, cat. 33), which although traditionally dated to 1802, on the basis of the inscription in our opinion wrongly interpreted, today no longer legible, should also be dated to 1797, due to the obvious similarity with our small canvas, both in compositional structure and in the figure of the young sitter.
The painting, that reached us through heredity from lawyer Davide Cugini, famous twentieth century legal expert from Bergamo, noted patron of the arts, art historian, and collector of antique and contemporary art, was passed on during the nineteen nineties to the city's antique market (Galleria Michelangelo – Galleria d'Arte Due Bi), and thence to that of Milan (Carlo Orsi) (Gazzetta 1997, p. [7], colour ill), where it was bought in 1997 by the Bolognese collector and art historian Eugenio Busmanti, who died prematurely in November 2018.
Bernardo Falconi
Bibliography:
Mazzocca 1995
Francesco Hayez, Le mie memorie, ed. Fernando Mazzocca, transcription by Caterina Ferri, Vicenza, neri Pozza, 1995.
Pavanello 2002
Giuseppe Pavanello, Venezia: dall'età neoclassica alla 'scuola del vero', in La pittura nel veneto. L'Ottocento, I, Milano 2002.
Gori Bucci 2006
Nina Gori Bucci, Il pittore Teodoro Matteini (1754-1831), Venezia, Istituto veneto di Scienze, Lettere ed Arti, 2006; pp. 162-163, 366, cat. 4.
Falconi 2010
Bernardo Falconi, Ritratto della famiglia dell'avvocato Giovanni Battista Cromer, 1805-1807, private collection, entry in Da Canova a Modigliani. Il volto dell'Ottocento, exhibition catalogue, Padua, Palazzo Zabarella, 2 ottobre 2010 – 27 febbraio 2011, edited by Francesco Leone, Maria Vittoria Marini Clarelli, Fernando Mazzocca & Carlo Sisi, Venice, Marsilio, 2010.
Mazzocca, Falconi 2010
Fernando Mazzocca, Bernardo Falconi, Nuovi ingressi nel catalogo di Teodoro Matteini pittore storico e ritrattista: Caio Gracco trattenuto dalla moglie Licinia all'incamminarsi che fa all'Aventino per sostenere la legge agraria; I ritratti di Louis Marie Auguste Denis-Lagarde e di Fanny Dervieu du Villars coi figli Auguste ed Eugène, in "Nuovi studi. Rivista di arte antica e moderna", 16, anno XV, 2010.
Falconi 2002
Bernardo Falconi, entry in Napoleone e la Repubblica Italiana (1802-1805), exhibition catalogue, Milan, Rotonda della Besana, 11 novembre 2002 – 28 febbraio 2003, edited by Carlo Capra, Franco Della Peruta, Fernando Mazzocca, Milano, Skira, 2002.
Gazzetta 1997
"Gazzetta Antiquaria", Nuova serie, n. 32 – 1 / 1997, p. [7], colour ill.).
Enciclopedia 1969
Enciclopedia Universale SEDA dell'Arte Moderna, Milan, Istituto per la diffusione delle arti figurative, 1969, p. 1773 (colour ill.).
Mangili 1981
Vincenzo Bonomini. I disegni, i Macabri, l'ambiente, exhibition catalogue, edited by Renzo Mangili, Bergamo, Accademia Carrara, 22 maggio – 21 giugno 181, Bergamo, "Monumenta Bergomensia", 1981, pp. 24, 27.
Gori Bucci 2003
Nina Gori Bucci, Matteini, Teodoro, in La Pittura nel Veneto. L'Ottocento, II, Milano, Electa, 2003, pp. 758-761, in particular p. 759.
For further information, to buy or sell works by Matteini Teodoro (1754-1831) or to request free estimates and evaluations
mail info@carlovirgilio.co.uk
whatsapp +39 3382427650