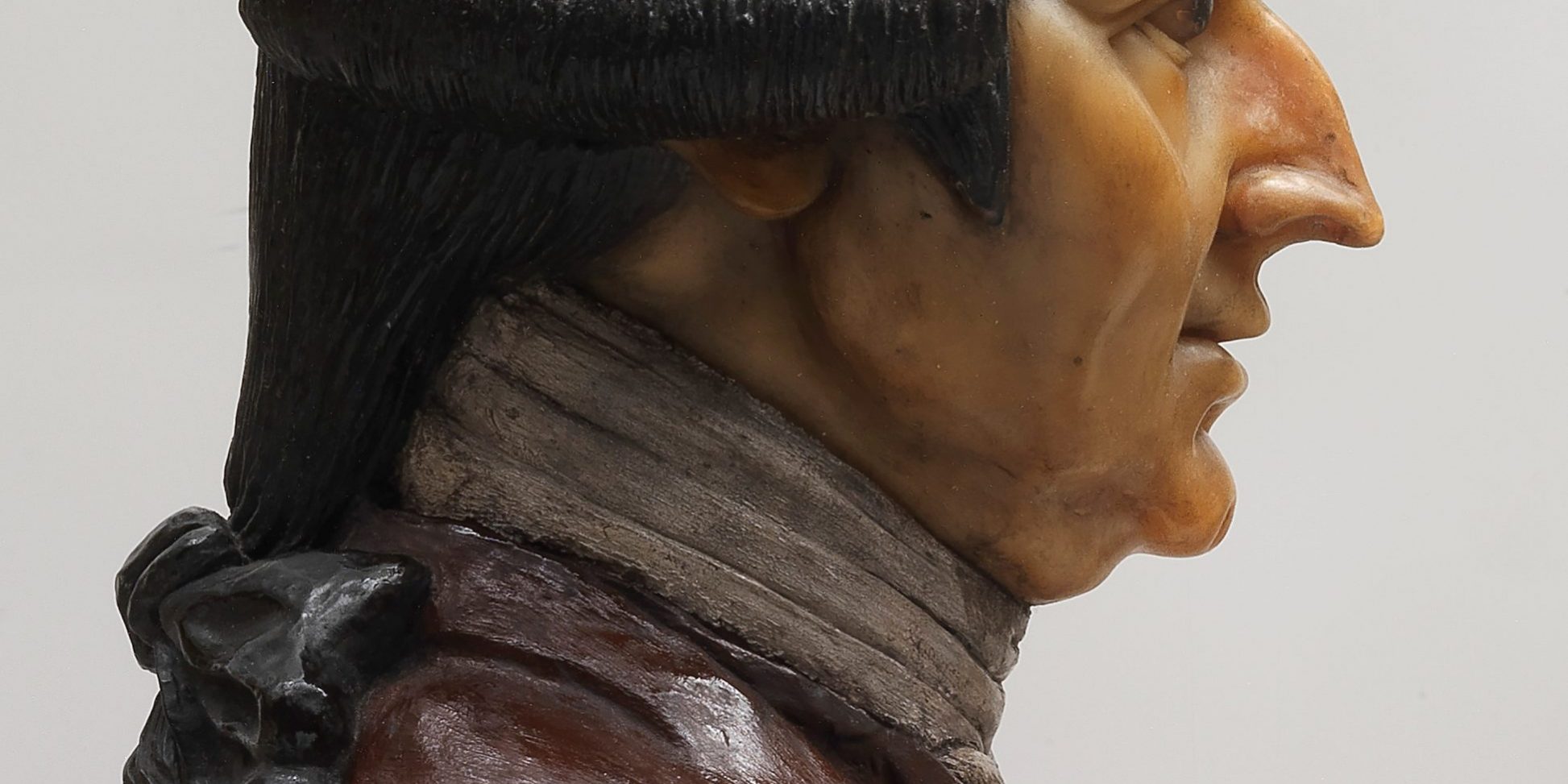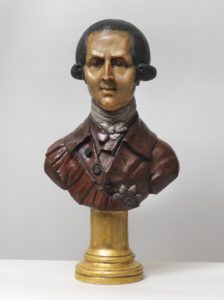 Joseph Müller Deym
Wognitz 1752–Prague 1804
and Leonhard Posch
Fügen, Austria 1750–Berlin 1831
William Hamilton
1793
Polychrome wax, within a leaded glass case on a Portoro Buono marble plinth, h 39 cm (with gilded pedestal)
Inscribed on back: "S.W. HAMILTON"
Provenance: Naples, private collection
Count Joseph Deym von Strítez (Wognitz 1752 – Prague 1804) started a military career but soon abandoned it for unknown reasons, possibly following a duel, and – having changed his name into the more anonymous Joseph Müller – reappeared in Vienna as a wax sculptor. There is a dearth of information on his apprenticeship, but a piece of news appeared in the «Wiener Zeitung» of 6 February 1793, citing a sojourn in France where he made wax figures. Towards 1791 he went into business with the sculptor Leonhard Posch (Finsing 1750 – Berlin 1831) who, having given up sculpture in marble for health reasons, devoted himself to making small wax portraits and medals. As Posch recalls in his autobiography, his job was to make the figures, which were then coloured, dressed and given real hair by Müller-Deym (cfr. Deutsch 1948; Kurz 1968
Forschler-Tarrasch 2002; Hatwagner 2008; Daninos 2011).
The Viennese exhibition that was held in 1789 at the Kohlmarkt and, a few months later, at the Stock-Im-Eisen-Platz, immediately received great success despite the unfortunate episode involving the arrival of the police to remove, by order of the emperor, figures of Marie Antoinette, Cardinal de Rohan and Marie Nicole Leguay d'Oliva, which is to say the protagonists of the famous «affair of the necklace» in which the queen was falsely accused of buying a costly piece of jewellery through Cardinal de Rohan; an event considered one of the harbingers of the French Revolution. Nonetheless, relations between Müller-Deym and the court remained good, to the extent that in February 1790 he was granted permission to make a cast of the face of Emperor Joseph II two hours after his death and to exhibit it. Besides the wax figures, the exhibition included Wunderkammer objects, plaster casts of classical sculptures, automatons and a mechanical organ that played Trauermusik, funeral music specifically composed by Mozart: Fantasia in F minor.
In 1792 Maria Teresa di Bourbon, wife of Emperor Francis II, requested life-size wax figures of the royal family to send to Naples for her mother Maria Carolina. After making the figures, Müller-Deym oversaw their transport to Naples, travelling there in company with Posch. In November 1793 he wrote from Naples of the satisfactory outcome of the delivery, specifying that the figures were highly appreciated and were located in the private apartments. That the realism of the wax figures was indeed admired at court is witnessed by a series of letters sent in the month of November and the succeeding month by Maria Carolina and her daughter Maria Cristina to Maria Teresa (cit. in Goudie 2013).
Posch and Müller-Deym remained some months in Naples, producing wax portraits of the royal family, who paid them a salary during their sojourn. The works that have survived are the bust of Ferdinand IV of Bourbon (Vienna, Österreichische Nationalbibliothek, Porträtsammlung, Bildarchiv und Fideikommissbibliothek), partly distorted by a heavy nineteenth century restoration, and that of Maria Carolina, found in the deposits of the Palazzo Reale in Naples and correctly attributed by Alvar González-Palacios (Civiltà del '700 1980, p. 258; Daninos 2011, p. 231; Avere una bella cera 2012, p. 121).
While in Naples the two artists also entered into contact with Sir William Douglas Hamilton, the famous British diplomat, collector of antiquities and naturalist, and obtained permission to take casts from his renowned collection of ancient vases. Hamilton's "Etruscan" vases, which conditioned the entire European figurative culture thanks to their publication in splendid illustrations from 1766-67, would become, as wax versions, one of the attractions at the Müller-Deym exhibition in Vienna, while in a pamphlet for visitors from 1797 it stated "eine Sammlung von etwa 150 theils großen etrurischen Originalvasen, von denen Ritter Hamilton nebst dem berühmten Director Tischbein ein weitläufiges Werk, mit den Abzeichnungen der Figuren, publizirte" (Beschreibung 1797, p. 60).
The bust presented here was very likely realised on the occasion of the two Austrian artists' Neapolitan sojourn, when Hamilton, who is portrayed wearing the British Order of the Bath on his chest, was 63 years old, an age compatible with the apparent age of the subject of the wax portrait. Supporting this chronology for example is the resemblance of facial features with the two drawings portraying Hamilton by Dominique Vivant Denon, also carried out in Naples around the same time (1782-1787).
Andrea Daninos has suggested the attribution of the bust to the two Austrian wax modellers, generously and helpfully indicating the details of their artistic affairs and their relations with Sir William Hamilton. In the list of works known today that can be linked to the pair, he recalled the existence of a bust of Archduke Joseph Anton Johann, signed and dated 1793 (previously Vienna, Khöler collection, Kollektion Dr. Köler 1917, p. 27, no. 180), produced in small format, smaller than life size, similar to the portrait of Hamilton.
Kollektion Dr. Köler 1917
Kollektion Dr. Köler, Wien, Kunstauktion C. J. Wawra, Wien, 30 gennaio 1917, p. 27, n. 180
Goudie 2013
A. Goudie, "The Wax Portrai Bust as Trompe-l'oeil? A Case Study of Queen Maria Carolina of Naples", in Oxford art journal, 1, 2013, pp.55-74
Civiltà del '700 1980
Civiltà del '700 a Napoli 1734-1799, exh. cat. (Naples, Museo e Gallerie Nazionali di Capodimonte), 2 vols., Florence 1980.
Daninos 2011
A. Daninos, Atlante illustrato delle figure in cera conservate in Europa, in J. von Schlosser, Storia del ritratto in cera, a cura di A. Daninos, Milano 201, pp. 212-264.
Avere una bella cera 2012
Avere una bella cera. Le figure in cera a Venezia e in Italia, exh. cat., Venice, Palazzo Fortuny, ed. by A. Daninos, Milano 2012.
Deutsch 1948
O. E. Deutsch, "Count Deym and His Mechanical Organs", in Music & Letters, 29, 2, 1948, pp. 140-145
Forschler-Tarrasch 2002
A. Forschler-Tarrasch, Leonhard Posch (1750-1831) Portraitmodelleur und Bildhauer, Berlin 2002.
Hatwagner 2008
G. Hatwagner, Die Lust an der Illusion. Ueber den Reiz der «Scheinkunstsammlung» des Grafen Deym, der sich Müller nannte, Phil. Diplomartbeit, Universität Wien 2008.
Kahr 2006
A. Kahr, Faszination oder Abscheu? Studien zum keroplastischen Portrait in Österreich. Materialikonologische Aspekte anhand ausgewählter Beispiele in österreichischen Sammlungen, Phil. Diplomarbei, Universität Wien 2006.
Kurz 1968
O. Kurz, "Hagenauer, Posch, and Mozart", in The Burlington Magazine, CX, 1968, pp. 325-329.
The Carlo Virgilio & C. Gallery searches for works by Posch Leonhard (1750-1831)
To buy or sell works by Posch Leonhard (1750-1831) or to request free estimates and evaluations
mail info@carlovirgilio.co.uk
whatsapp +39 3382427650