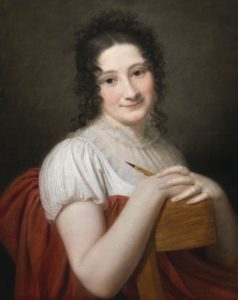 Gaspare Landi
(Piacenza 1756-1830)
Bianca Milesi
1811-1814
Oil on canvas, 61 x 48.5 cm
On the back of the original canvas, apocryphal Appiani initials: "AA"
Provenance: Rome, artist's collection; Rome, Pietr'Antonio Landi, from 1830; Milan, private collection.
Bibliography: Mellini 2000, pp. 74, 116, fig. 22; Mellini 2004, p. 45, 58.
Identified from an archive photograph (Bologna, Fototeca Zeri), the painting was published by Gian Lorenzo Mellini with the correct attribution to Gaspare Landi and the hypothesis that the sitter was the miniaturist daughter of Marianna Waldestein, marchesa de Haro di Santa Cruz, to whom the funerary monument commissioned of Canova was to be dedicated.
Today the opportunity for direct study of the work, issuing from a Lombard collection, fortunately coincides time wise with Federico Piscopo's research into the figure of Bianca Milesi, due for imminent publication (Piscopo 2020). The art historian, whom I thank for sharing his research, suggests that the young artist portrayed by Landi is indeed the Milanese painter, writer and patriot, of whom it was known that Landi had carried out a painted portrait. The inventory of twenty-two of his paintings inherited in 1830 by his son Pietr'Antonio included the entry "Portrait of La Milesi" (Scarabelli 1845, p.116), as well as other likenesses of artist colleagues or patrons, such as the portraits of Tommaso Minardi (a copy is at the Accademia Nazionale di San Luca, Rome), Giuseppe Bossi, and the Self-portrait with client Giambattista Landi (Novara, priv. coll.), probably kept by the artist for sentimental reasons, along with demanding history paintings that he had carried out as demonstration pieces, without commission, such as a Mary Stuart of unknown whereabouts, and the famous monumental painting of Oedipus at Colonus, recently found (Grandesso 2018).
Piscopo underlines the similarity of Landi's painter with known portraits of Bianca Milesi, the drawing carried out in 1808 by Andrea Appiani and presented by her to the Romanian poet Gheorghe Asachi (Muzeul de Artă, Drobeta-Turnu Severin, previously C. Istrati collection, published in Bacaloglu 1912), when they were both artistic apprentices in Rome under Michael Köch, the drawing by Asachi himself, the oil painting by Sophie Reinhard (Karlsruhe, Staatliche Kunstalle) and the engraving by Camilla Guiscardi Gandolfi of 1829, whose close resemblance in her features seems decisive in confirming the identification.
Originating from a well-to-do entrepreneurial family from Bergamo, Milesi had received the traditional education for upper class young ladies, in a convent. Impatient of such conventional limits and desirous of greater learning, she enlarged her knowledge of figures of the enlightenment and of Italian poets under the learned instruction of a private tutor, cultivating by means of a passion for Alfieri a patriotic feeling and an aversion to foreign domination. She then embraced painting in Milan, benefiting from the guidance of Appiani and gathering around her writers and artists such as the engraver Giuseppe Longhi, the painter Giuseppe Diotti and the architects Luigi Bossi and Luigi Canonica (Souvestre 1854, pp. 25-26).
With the aim of improving her skills in order to be able to dedicate herself with seriousness to the profession of artist, Bianca Milesi moved to Rome at the end of 1810 with her mother and the abbot Tordeo, relying for painting lessons on Michael Köch, an artist in the circle of Felice Giani who was then employed in the Napoleonic decoration of the Campidoglio and Quirinale (cfr. A. Imbellone, in L'officina neoclassica 2009, pp. 183-185). She set up in an atelier, prolonging her stay beyond the her mother's return to Milan, under the protection of Giovanni Gherardo de Rossi, famous playwright and writer of fine arts, frequenting Antonio Canova and the German painter Sophie Reinhard, and through them, Giuseppe Tambroni, who was then setting up the Accademia d'Italia at Palazzo Venezia, the landscape artist Giambattista Bassi, and members of the Nordic community such as Joseph Rebell, Peter Cornelius and Christian Daniel Rauch (Souvestre 1854, pp. 28-34).
At her return home in 1815, Milesi gradually abandoned painting in favour of writing, publishing biographies of Sappho and Gaetana Agnesi, and political passion, cultivated in her literary salon and in the secret revolutionary society "giardiniere della carboneria." With Federico Confalonieri she attempted to introduce mutual welfare in Lombardy and in 1820 she visited Melchiorre Gioia in prison; briefly arrested herself the following year. Expatriate in Switzerland, France and England she then settled in Genoa, where she frequented liberal circles and was a follower of Mazzini; and married the doctor Charles Mojon. She then left Italy for Paris, where she nurtured an interest for children's educational literature and epistolary relationships with eminent intellectuals such as Silvio Pellico, Alessandro Manzoni, Nicolò Tommaseo and Jean Charles Léonard Sismonde de Sismondi (cfr. Souvestre 1854; Arisi Rota 2010).
Landi was very close to Canova and to de Rossi, who had witnessed his artistic debut from the fundamental articles published in "Memorie per le Belle Arti," and he therefore had the opportunity to frequent the young artist Milesi during her Roman sojourn.
The beautiful portrait remains one of his masterpieces, alongside those of Caterina Anguissola da Travo (Piacenza, Musei Civici di Palazzo Farnese), Conte Giacomo Rota or Antonio Canova (the two versions: Rome, Galleria Borghese and Bergamo, Accademia Carrara). As in these examples, the sitter is portrayed in the close foreground, against an abstract background, seemingly caught in the moment with great naturalness. Her pose of immense ease and familiarity constitutes an attribute as much as the pen holder and together with her expressive facial features really does put across the qualities that made Milesi famous; her beauty and the social amiability of her character as well as the vitality of her many intellectual talents that caused her to become a symbol of self-determination and female emancipation. The rendering in numerous progressive touches invigorates the chromatic passages of the skin as if it were a live surface and draws the studied carelessness of the details in the hairstyle of someone who has sacrificed every personal luxury in order to buy books.
Stefano Grandesso
Piscopo 2020, publication imminent
Arisi Rota 2010
A. Arisi Rota, Milesi, Bianca, in Dizionario Biografico degli Italiani, vol. 74, 2010, ad vocem.
Bacaloglu 1912
E. Bacaloglu, Bianca Milesi e Giorgio Asaky, in "Nuova Antologia", Sept. 1912, pp. 81-101.
L'officina neoclassica 2009
L'officina neoclassica. Dall'Accademia de' Pensieri all'Accademia d'Italia, exh. cat. (Faenza, Palazzo Milzetti), ed. by F. Leone, F. Mazzocca, Cinisello Balsamo 2009
Mellini 2000
G.L. Mellini, "Per Gaspare Landi, ricapitolazione", in Labyrinthos, XIX, 37-38, 2000, pp. 65-120.
Mellini 2004
G.L. Mellini, "Per Gaspare Landi, ricapitolazione", in Gaspare Landi, exh. cat. (Piacenza, Palazzo Galli), ed by V. Sgarbi, Milano 2004, pp. 39-65.
Grandesso 2019
S. Grandesso, "L'Edipo a Colono. Giuseppe Bossi e Gaspare Landi in gara di emulazione nel ritrovato dipinto landiano"; in Dall'ideale classico al Novencento. Scritti per Fernando Mazzocca, ed. by S. Grandesso e F: Leone, Cinisello Balsamo 2018, pp. 58-63.