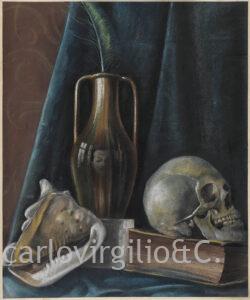 Alberto Martini  
(Oderzo 1876-Milan 1954) 
Vanitas with Self-Portrait 
c 1920 
Pastel on paper, 54 × 46 cm  
Signed "AM ALBERTO MARTINI" 
Provenance: Padua, private collection 
Alberto Martini, the great imaginative designer and symbolist illustrator, who interpreted with aristocratic dandyism the figure of decadent artist, later recognised as precursor of surrealism, also experimented with more accurate and realistic visions in the nineteen twenties: works that in some sense are part of the Novecento return to order, above all in his portraiture and pictorial production in oil and pastels (Alberto Martini mostra antologica, ed. by Marco Lorandi, Milan 1985).  
This unpublished Vanitas with Self-Portrait, classically composed on decorative fabrics with metaphorical motifs, constitutes an example, where the various symbolic elements suggest the personality and vision of the artist. The shell is the emblem of the artist's esoteric knowledge as initiate and soothsayer. The skull does not allude only to the fleetingness of life but also to a taste for the macabre; it lies on the volume that recalls literary inspiration in the graphic series of the illustrator of Poe, Dante and Shakespeare. The peacock feather, symbol of the cosmic deployment of the spirit and the immortality of the work of the artist who craved recognition for his role in history, is inserted in the glass vase, recalling his adored Venice.  
Martini's face is reflected in the vase, not dissimilar to the iconography of the Self-Portrait in pen of 1911 (Oderzo, Pinacoteca Civica "Alberto Martini"), and therefore from around that time. The  likeness brings to mind Ettore Cozzani's famous description in the monograph number of the review Eroica of 1927: "Tall, reedy and pale, with the attire and pace of aristocratic composure. An immobile face looking straight ahead of him," "in an expression of proud impassivity" that is removed "from common life in a refined and cruel dream." The theme of the reflected apparition refers to the creative motif of the "inner mirror," the "revealing" mirror, into which the artist looks to draw out his surreal imagination.
The Carlo Virgilio & C. Gallery searches for works by Martini Alberto (1876-1954)
To buy or sell works by Martini Alberto (1876-1954) or to request free estimates and evaluations
mail info@carlovirgilio.co.uk
whatsapp +39 3382427650