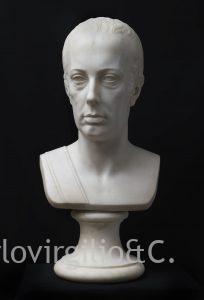 Josef Kähsmann
Vienna 1784-1856
Francis I of Austria
1826
Marble, h 54 x 24 x 20 cm
Signed on the right: "KI (monogram) Romae 1826"
Provenance: Rome, private collection
This portrait bust of Emperor Francis I was executed in 1826 in Rome and was made by the neo-classical sculptor Josef Kähsmann (1784-1856). Born in Vienna, in 1784, the sculptor was apprenticed by his father Francis Kähsman, before attending the Viennese Academy. There he won several prices, such as the Gundelpreis, as well as the silver and gold medals. From 1823 to 1829 he was send to Rome, were he frequented the studio of Bertel Thorvaldsen. After his return from Rome, Kähsmann became professor at the Viennese Academy were he worked until 1851 (see Kolbeck 1999, Sycha 2008).
Kähsmann executed several works in marble during his Roman sojourn as the academy records show: the colossal group of Iason and Medea today at the "Hofburg" in Vienna, a Sitting Mercury, Psyche, Cupid, and a bust of Sappho (Kolbeck 1999, Kat. Nr. 9). Moreover, two portrait busts of emperor Francis II. (I.) in neo-classical drapery and armour with a laurel – one of them today at the library of Vienna University, one at the Castle of Schönbrunn.
The bust here on display was probably made during Kähsmann's stay in Rome. It differs slightly from the earlier mentioned bust at Vienna University – with its idealized physiognomy of Emperor Francis II. (I.) and the neo-classical drapery and amour that goes back to examples such as Antonio Canova's portrait from 1805 (KHM, Vienna). In contrast, our portrait shows the emperor's bare neck, quoting not only works from classical antiquity, but also the more severe neo-classicism established by Kähsmann's northern European contemporaries such as Christian Daniel Rauch and Bertel Thorvaldsen.
Anna Frasca Rath
BIBLIOGRAPHY
Kolbeck 1999
Gertrude Kolbeck. Der Bildhauer Josef Käßmann und seine Zeit. 1784-1856, unpubl. diploma thesis (University of Vienna), 1999.
Sycha 2008
Roswitha Sycha, "Studie zu Wiener Porträtbüsten um 1800. Ein Beitrag zum Klassizismus in Österreich, unpubl. diploma thesis (University of Vienna), 2008.