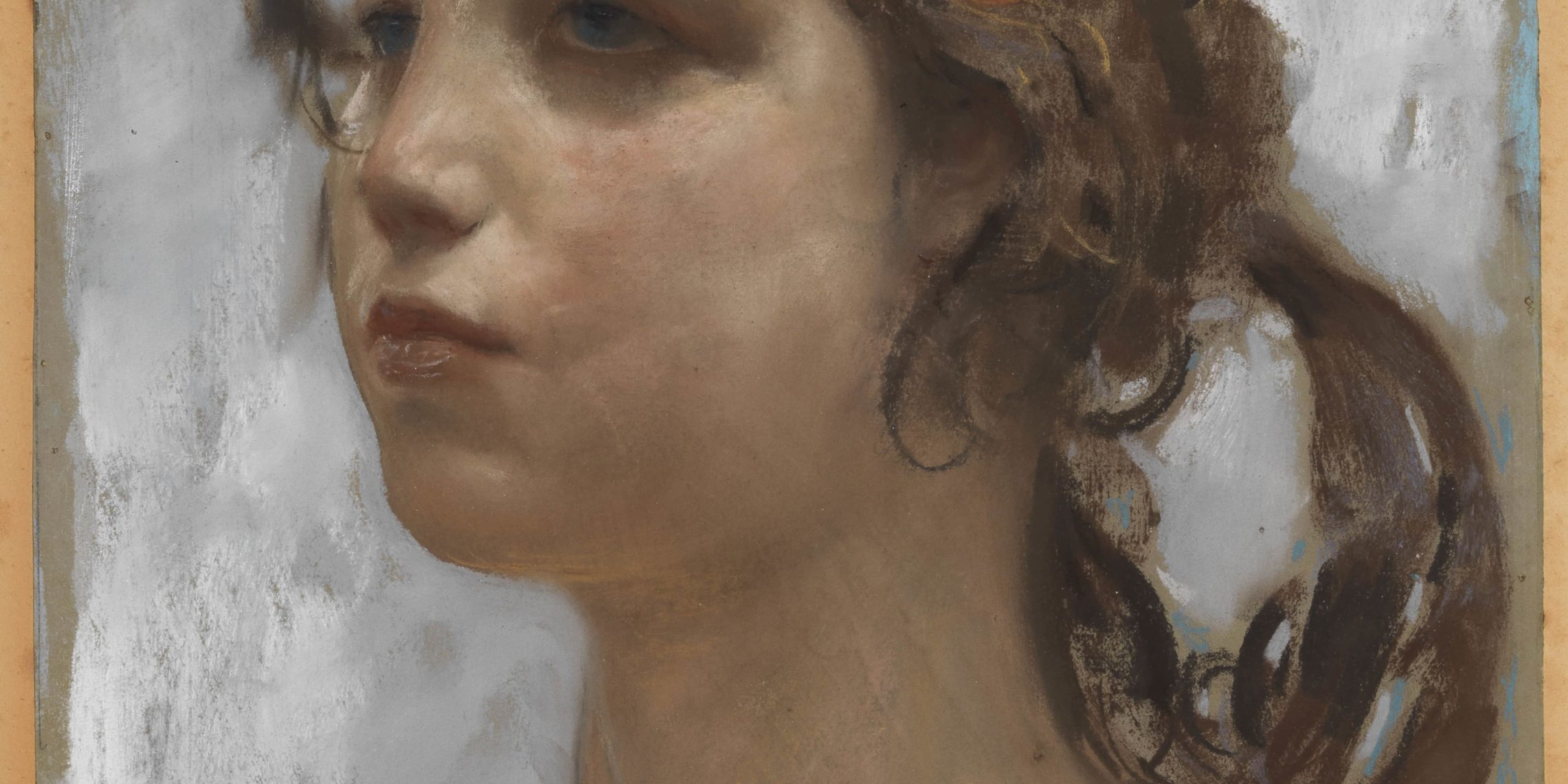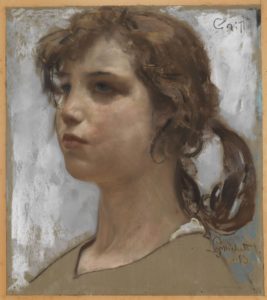 Francesco Paolo Michetti
Francesco Paolo Michetti
Tocco da Casauria 1851-Francavilla al Mare 1929
Study of a Female Head
1883
Pastel on paper, 450 x 400 mm
Signed and dated: "FP. Michetti "83″
Provenance: Rome, Amelia Almegià and Aldo Ambron, acquired from the artist; descendants of the Ambrons
Bibliography: Janni 1910, 11, p. 966; Ojetti 1910, p. 414; Ferraguti 1911, 6, pp. 483; Benzi, Berardi, Lodispoto, Spinazzè 2018, cat. 472.
Listed in an unknown collection in the general catalogue of Francesco Paolo Michetti's work (Benzi, Berardi, Lodispoto, Spinazzé 2018), the pastel reappeared on the market recently; it has great appeal due to its simply composed subject matter, and is decidedly powerful for the expressive quality of the style. Probably never exhibited before and published by Ugo Ojetti in 1911, it has been found to be of the painter Amelia Almegià and the engineer Aldo Ambron, the couple of patrons of the arts who lived between Rome and the international city of Alexandria in Egypt. They liked to buy works directly from artists, as in the case of this portrait by Michetti. Of Jewish origins, Amelia Almegià trained with the non-conformist genius in the field of Verismo Antonio Mancini, who became a friend of the family and some of whose paintings entered their collection. Amelia frequented circles of the artistic avant-garde and held an intellectual salon in the couple's residence in Parioli, Rome, where among others Filippo Tommaso Marinetti, Giacomo Balla and Trilussa gathered. A fraternal tie united the Ambrons to Balla, who made a portrait of Amelia; besides being their guests with his family between 1926 and 1929.
To date, the few known photographs of Michetti's pastel are indecipherable ones published at the beginning of the twentieth century, one of the reasons its execution was mistakenly located in 1890. In fact, it is signed and dated by Michetti "1883," a date that places it in a crucial phase of the artist's extraordinary creative itinerary. In Italy Verismo triumphed in both art and literature. At this time the thirty-one-year-old Michetti is at full creative and intellectual maturity and enjoys an established fame on the international stage. Connected to Gabriele D'Annunzio by friendship and a spiritual affinity, he shared with him a manner of feeling and of exploring their common native land, on the one hand attracted by the archaic primitive, violent and sensual world, on the other seduced by an uncontaminated, unfathomable and eternally young 'nature' open wide to their voracious senses. In Rome in January 1883 Michetti shows his masterpiece, Il voto, (The Vow) at the Esposizione di Belle Arti, and the work is bought by the Galleria Nazionale d'Arte Moderna e Contemporanea of Rome, where it still is today. Created over a few months, the painting was the fruit of a long gestation in which Michetti explored out of the way places in Abruzzo, where religious festivals took place. In Miglianico he was present at the feast of the patron saint when the silver bust of San Pantaleone with a halo like a large solar disc over his head, was moved from its underground shrine. Besides employing a seventeenth century realism that darkens his palette, as observed by Sabrina Spinazzè (Benzi, Berardi, Lodispoto, Spinazzé 2018, p.38), Michetti organises the single figures and the arrangement of the masses with a photographic eye, if not indeed a cinematographic one (photography is a medium he uses in a modern way), unfolding his powerful talent, with which he gives shape to: "a vast canvas, a lugubrious theme, hemmed in, with no sky, a way of thinking, already called social, of misery and superstition, stupidity and blood, a type of painting imbued with the soil of the small town held in a frame straight as a ramrod – as comments Ugo Ojetti (Ojetti 1910, p. 421) – (…) The bust of the saint on a carpet on the ground among six candle holders, the country folk licking the ground, crawling and bleeding from the threshold of the church to reach the idol that they hug, sobbing and shuddering, the priest serene and smiling under a large cope, kneeling at the side holding the aspergillum, and behind him the crowd: men, women, old people, brides, children and the sick, each carrying a candle, their souls in their eyes, ecstatic and suffering." Ojetti recounts that after such a resounding ordeal resulting however in scarce innovation in style, Michetti began a "simplification" and "sought a more vigilant and severe style," that materialised in the giant canvas La figlia di Jorio (Jorio's Daughter) (1895).
Study of a Female Head belongs to the work produced by Michetti in this new phase, but after a few years and having already exhibited at the Esposizione Nazionale di Milano in 1881. He portrays the young country girl's face slightly at three-quarters, focussing on her thoughtful and innocent expression, somewhat darkened by a faint shadow. The light is in the colour of pastel, which gives life to the fresh pink of the face, to the vermilion lips with no hint of a smile, to her forehead in grey-blue shadow. The fair hair is highlighted by a golden colour fragmented in subtle strokes and dashes, like the rebellious strands that fall over her face. A masterful portrayal between classical rigour and contemplation of the natural world, because Michetti, explains D'Annunzio: "had to live Nature as a religion (…). He lived everything like that, carrying everything inside him, as it were, the stamp of life, the meaning of life; not just the faces of men." (G. D'Annunzio 1883, p.2)
Bibliography
D'Annunzio 1883
G. D'Annunzio, Ricordi Francavillesi, in "Fanfulla della domenica", Roma 7 gennaio 1883, p.2
Janni 1910
E. Janni, F.P. Michetti, in "La Lettura", X, 1910, 11, p. 966;
Ojetti 1910
U. Ojetti, Artisti contemporanei: F. P. Michetti, in "Emporium", vol. XXXII, n. 192, December 1910, p. 414;
Ferraguti 1911
A. Ferraguti, Francesco Paolo Michetti, in "Il Secolo XX", X, 1911, 6, pp. 483;
Benzi, Berardi, Lodispoto, Spinazzé 2018
F. Benzi, G. Berardi, T. Sacchi Lodispoto, S. Spinazzè, Catalogo generale, Cinisello Balsamo 2018, cat. 472.
The Carlo Virgilio & C. Gallery searches for works by Michetti Francesco Paolo (1851-1929)
To buy or sell works by Michetti Francesco Paolo (1851-1929) or to request free estimates and evaluations
mail info@carlovirgilio.co.uk
whatsapp +39 3382427650