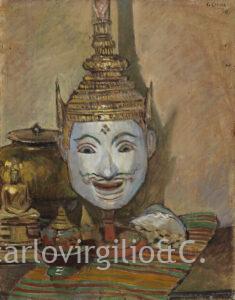 Galileo Chini  
(Florence 1873-1953) 
Mask of the Siamese Theater 
c

1913-14 
Oil on board, cm 60 × 47,5 cm 
Signed and dated: "G. Chini […]4" 
Provenance: Galileo Chini's heirs, Florence; Galleria Arco Farnese, Rome; Collection Lucia Stefanelli Torossi, Rome; Private collection, Rome. 
Exhibitions and Bibliography: Galileo Chini. Mostra retrospettiva, Milan, Società per le Belle Arti ed Esposizione Permanente, Milan 1977; Galileo Chini e l'Oriente, exhibition catalogue, Salsomaggiore Terme, Rome 1995. 
Established painter, interior decorator and ceramicist, in 1907 Chini was commissioned by the Venice Biennale to decorate the Dome Room. Among the final examples of the prevailing symbolist taste, the room attracted the attention of Chulalongkorn, King of Siam, who wanted the painter for the Throne Palace that was being built in Bangkok, designed by Annibale Rigotti and Mario Tamagno. Spending three years (1911-1914) in Siam, Chini explored the country's complex culture, transferring onto the canvas the splendour of light, colour and symbols of that exotic land. From the start, the emotional strength of reality caused him to move away from divisionism to embrace a looser expression and more brilliant palette from which the inner dimension rings out more clearly. Painted at the end of his stay in Siam, the work belongs with others of a similar subject where in the exaggerated expression of the mask, standing out in part due to the other objects being slightly 'out of focus' and of a more definite linearism, one feels the suggestion of the magical vision of the Orient.