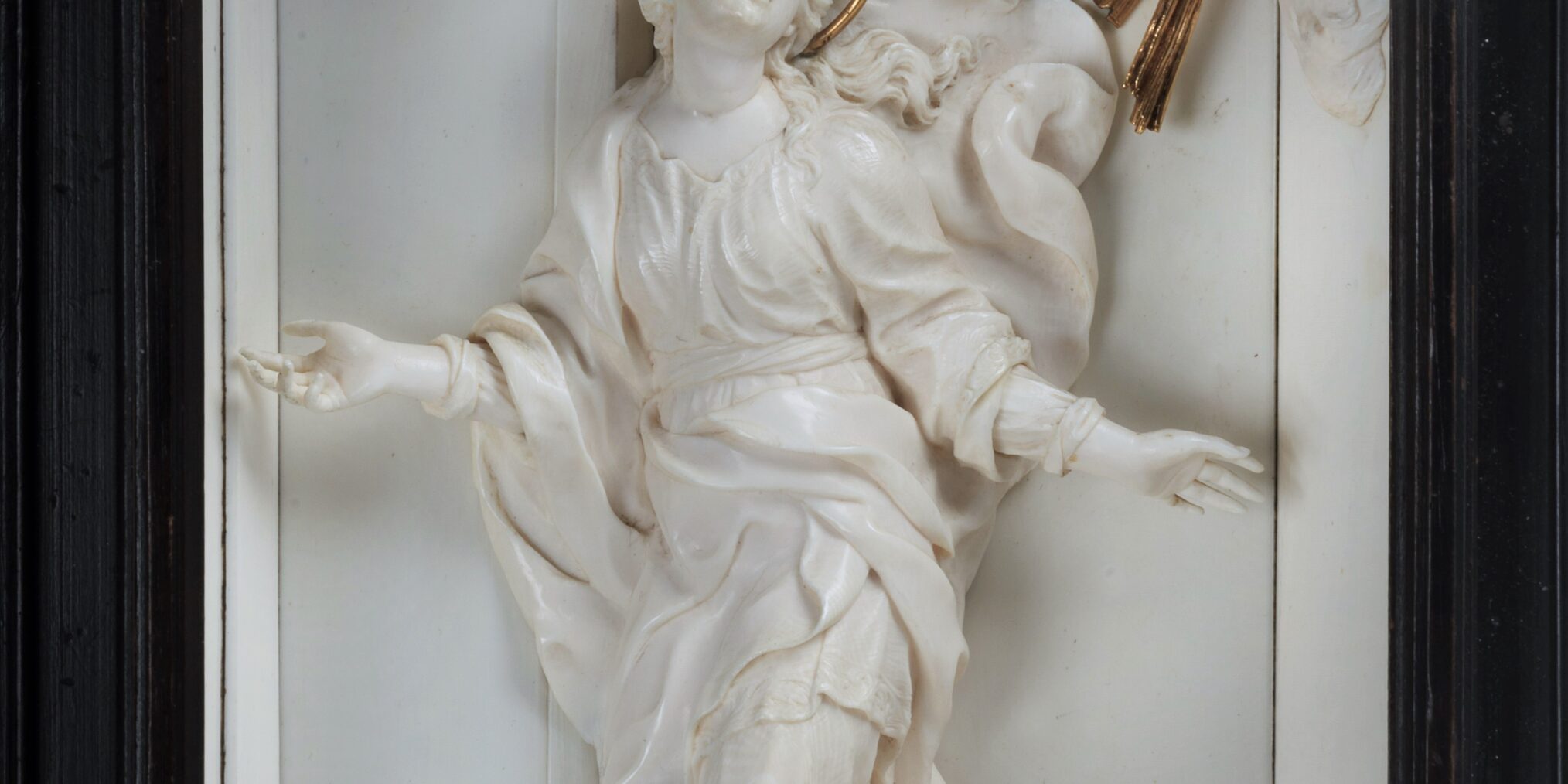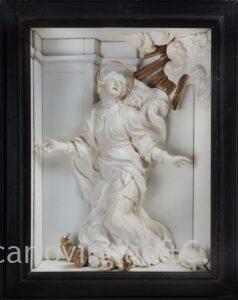 Dominikus Stainhart
Weilheim 1655 – Munich 1712
Saint Agnes at the Stake
1674-1682 circa
High-relief in ivory, with halo, rays and flames in fire-plated gilded bronze, 23.5 x 18 cm, in a perspective box frame, original, in ebonized wood with sides clad in ivory laths, 27.2 x 21.8 cm
Provenance: Munich, antiques market, 2003; Italy, private collection
Bibliography: Eduard A. Safarik, Maria Isabella Safarik, Arte Ricercata. Nuovo capitolo del collezionismo mitteleuropeo, Hradec Králové 2016, pp. 186-191.
The reliquary, with the high-relief of Saint Agnes at the stake in a perspective frame is testimony to the golden age of baroque sculpture in Rome, where chosen taste and virtuoso excellence of technique are expressed with equal success in large scale works as they are in reduced format. Thus, this small scale work intended for private worship succeeds in expressing the dramatic and enlivened pathos of larger figures, emphasized by perspective and chromatic illusionism, with the precious insert of the gilded bronze elements: the flames, halo and divine rays.
The relief was published by Eduard Safarik as the work of the two German maestri Dominikus and Franz I Stainhart (or Steinhart), the former specialised in ivory intaglio and the latter an expert in sculpture in wood. The brothers had lived in Rome for nine years, probably from 1674 to 1682, and between 1678 and 1680 they were reported as lodging at Palazzo Colonna. In the service of Prince Lorenzo Onofrio, at the time they made the magnificent cabinet in ebony and ivory, to Carlo Fontana's design, with stories from the Old and New Testaments, inspired, with variations, by the figurative models of, among others, Raphael and Michelangelo, as for example the Last Judgement represented in the centre (Rome, Galleria Colonna). This exceptional ornament was naturally well known to Safarik who had studied it as authoritative curator of the collection (cfr. E.A. Safarik, Palazzo Colonna, Rome 1999, p. 149, fig. 270). And as in that case, he remarked that Saint Agnes also derived from a figurative prototype in this case coeval, varied in original terms. It was the sketch in terracotta for the marble high-relief by Ercole Ferrata for the altar of Sant'Agnese in Agone, the church in Piazza Navona designed by Borromini, found in a Roman aristocratic collection, here recovered with significant variations in counterpart, similar to what occurred in the relief of The Assumption of the Virgin sculpted by Dominikus Stainhart, commissioned by Colonna.
For further information, to buy or sell works by Stainhart Dominikus (1655-1712) or to request free estimates and evaluations
mail info@carlovirgilio.co.uk
whatsapp +39 3382427650